Same day cash title loans with no store visit in Longview TX
Apply online using the form below or call us at 800-250-6279
TITLE LOANS ONLINE IN LONGVIEW TX!
Cash out equity from your vehicle with an instant approval title loan in Longview Texas. You don't need good credit and most can qualify with a newer lien free pink slip. Loan amounts start at $2,500 and get your cash in 24 hours or less when you apply online!
How Do Title Loans Work In Longview, Texas?
At Premier Title Loans, we make it easy to get approved for a collateral loan in Longview. These secured title loans use a lien free vehicle as collateral, and you can typically borrow anywhere from $1,000 to $20,000 based on your car's equity.
Why Apply With Premier Title Loans In Longview, Texas
Premier Title Loans has been working with customers in Longview for years and we know what you need to get approved and funded in less than 24 hours. One of your agents will contact you immediately after the application is submitted, and we will help to gather all the necessary DMV documents and vehicle paperwork.
One of the best parts about taking out a Texas title loan is that you keep driving the vehicle while the monthly payments are made. That means there's no need to hand over the keys and pink slip before the loan is funded. Instead, you sign over the vehicle title, which is used as collateral for a Longview title loan.
Lastly, these collateral loans don't require a good credit score! The vast majority of our customers have poor credit and have already been turned down by other unsecured lenders. The main requirement for a title loan is your car, truck, or SUV's equity, not your credit history. So don't worry if you've recently missed credit card payments or dealt with a loan default. As long as you meet the basic requirements of having a paid off vehicle and proof of income, you should have no issues getting approved.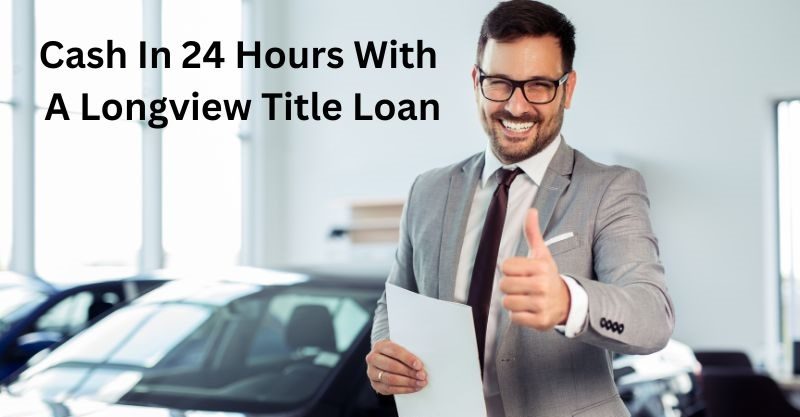 How Fast To Get My Cash & What Are The Rates in Longview
Title loans can fund quickly, and there's a chance of same day cash if you have all the documents together before you apply. Once we get your application, we'll start underwriting the loan docs and schedule a vehicle inspection if necessary. Upon approval, you can receive the funds within an hour if you work with a local direct lender in Longview. For those who apply entirely online, sending your cash straight to a bank account can take up to one business day. There's also an option to have the funds sent by money order and in that case, you can get instant cash at locations off Loop 281 or Marshall Ave in Longview.
The interest rates for a title loan in Longview, TX, are high, and you should expect an APR close to 75% when you apply as a first-time customer. Only borrow what you need, and don't hesitate to pay off the loan early if there's no pre-payment penalty. Some companies will even offer returning customer discounts if you've worked with them previously and paid the initial loan on time. Finally, expect a finance charge far lower than the intro rate if you've already applied and paid off a title loan with that same company!
Apply Now With Premier Title Loans For A Longview Title Loan
Premier Title Loans, works with licensed companies in Longview, and because of our lender reach, we're confident in our ability to match you with a lender near you.
Start by filling out the online form on this page or call us at 800-250-6279 complete an application over the phone.
Other Cities In Texas