Mississippi has numerous options for people who need fast cash. But did you know it's possible to borrow cash in 24 hours from a title loan company in Mississippi? When you have a paid off vehicle you can use that equity as collateral for a loan. Yes, interest rates are high with title loans, but you can be approved for funding with bad credit, and most lenders will let you pay back the loan early with no prepayment penalty. The first step to getting your money is finding out how to apply and the requirements.
How To Get  Title Loans In Mississippi & What's Required
The first step is to find a title loan company that works with borrowers in Mississippi. Once you have found a lender, completing an application is next. This can be done online, over the phone, or you can work with a local lender in MS. You won't have trouble finding local title loan companies in MS. There are dozens of firms in Biloxi and Jackson, with a few others throughout Gulfport. The application will require personal information, such as your name, address, and contact information. You will also need to provide the title of your car and your State ID Card.
A valid vehicle pink slip is the most important requirement here, and it's an absolute must that it's paid off and shows you as the sole owner. Your pink slip is the key to getting a title loan because lenders want to know that you have equity to use as collateral for the amount borrowed. Lenders in Mississippi might also ask for recent pay stubs and bank statements to show you have enough money coming in each month. Each title loan company has different requirements for proving you can make future loan payments, and some may be ok with alternative sources of income like unemployment and state disability.
What's The Approval Process For Title Loans In Mississippi & How To Get My Cash
The approval process for title loans in Mississippi is typically quicker than for other personal loans. From the time you fill out the application to when you have the cash in your hand, the entire process shouldn't take more than 24 hours, and you can often get it done quicker if you work with a retail title loan company here in Jackson. If you live outside of a big city or simply want to do everything online, that's fine, but it may take longer than 24 hours to send the money to your bank account.
Another component of the approval process may involve your title loan lender asking to complete a vehicle inspection. This is normal and is usually the last step before they sign off on the funding documents. Again, you can do this at any location in Mississippi, or a licensed agent can come to you and look over the vehicle at your house or place of business.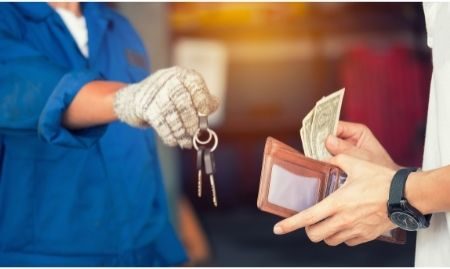 Credit Requirements For MS Title Loans
The approval process may involve a credit check, but this doesn't mean you need perfect credit to be approved. We see borrowers all the time getting approved for bad credit title loans, and that's because your car's equity is the main requirement a company looks for when underwriting your loan. Lenders understand that accidents happen, and most title loan companies in Mississippi accept borrowers with scores as low as 500 and those with limited credit histories. The key is to have a job that pays you regular monthly income and proves you can make payments on time.
Are The Interest Rates High On Title Loans In Mississippi
Yes, virtually all direct lenders assess high rates for their title loans. That's because these loans are considered risky lending products, and the interest rates reflect that. However, title loan companies in Mississippi are much more flexible than in other states when working with borrowers on repayment plans. You may qualify for up $1,000 and be able to pay it back over 12 months without incurring any prepayment penalties. The exact APR or interest rate on a Mississippi title loan will vary, but you'll be hard-pressed to find any lender offering a secured loan with rates less than 36% monthly.
Getting cash with a 24 hour title loan is easy as long as you know what to expect with the interest rates and financing terms. You just need to find a lender that works with borrowers in your state, complete an application, provide some personal information and your car title, and wait for approval. The entire process shouldn't take more than one business day so you can have the cash you need quickly. Remember, all you need is a paid off car to get started on your application.
Apply Online Or With A Direct Title Loan Provider In Mississippi
This is a question that doesn't have an answer as both options have their pros and cons. Applying for title loans online may be the easier option but you'll likely have to wait a few days for the money to hit your bank account. Going through a title loan provider in Mississippi can get you the cash in hand much quicker, but you'll need to meet with a direct lender at a physical location within the state and complete all the paperwork in person. It depends on what you're looking for and how comfortable you feel filling out an application online.
Whichever way you choose to apply, car title loans are a great way to get some quick cash in Mississippi when you need it. The approval timeline is easy to follow, and you can contact the customer service team at Premier Title Loans at any time if you have questions or simply want to apply over the phone. We look forward to helping you find the best title loan quote and rate in MS!