Get cash now with a no inspection title loan from Premier Title Loans.
We offer online title loans, and in some cases, there's no store visit required!
TITLE LOANS ONLINE WITH NO STORE VISIT OR INSPECTION!
Are you interested in getting an online car title loan but don't have the time to take your vehicle in for an inspection? In some circumstances, you can get approved entirely online without physically showing a lender the vehicle. Find out what you need to get a title loan without the vehicle present!
Online Title Loans With No Store Visit Or Inspection Requirement
Most applicants who apply for a title loan think they must deal with a lengthy vehicle inspection or required store visit. The good news is that some companies will not require a store visit if you can show other requirements that ensure successful underwriting. By showing anything other than a steady payment history for the 9-month loan period, you can be positive that the vast majority will not require you an in person visit to get the loan approved. Most online title loan companies will lend to those with less than perfect credit or even those who do not have a clear title. In these cases, an inspection may be required to verify enough equity in the vehicle. Let's examine the scenarios where you get a title loan without inspection and how this type works.
How Does A No Inspection Title Loan Work
No inspection title loans work just like other car title loans. You use your car's equity as collateral for a loan, and that collateral secures the loan amount. Hand over the car's title as security for this secured loan and get the pink slip back after you've repaid the entire balance.
One difference with this type of loan is that you don't need to deal with an inspection process and sometimes even a credit check that can cause delays in funding your loan. Apply online with Premier Title Loans, and you can skip the hassle of getting your vehicle inspected and move to pick up your cash! Yes, the loan amount will be lower as the lender is not inspecting the car in person, but that's often not an issue if you're looking to borrow less than $3,000.
What's Required For Online Title Loans With No Store Visit
You should be able to get a title loan without a store visit if you can provide a lien free car title and prove the ability to pay back your loan each month. You'll also need proof the vehicle is insured, and there's no real chance the lender could limit your loan amount if you refuse to send in pictures or video proof of your car.
Getting a title loan without proof of income or a store visit is essential for someone who doesn't want to deal with an inspection. But often, it will be an issue if you don't want to bring the vehicle to the store to get inspected.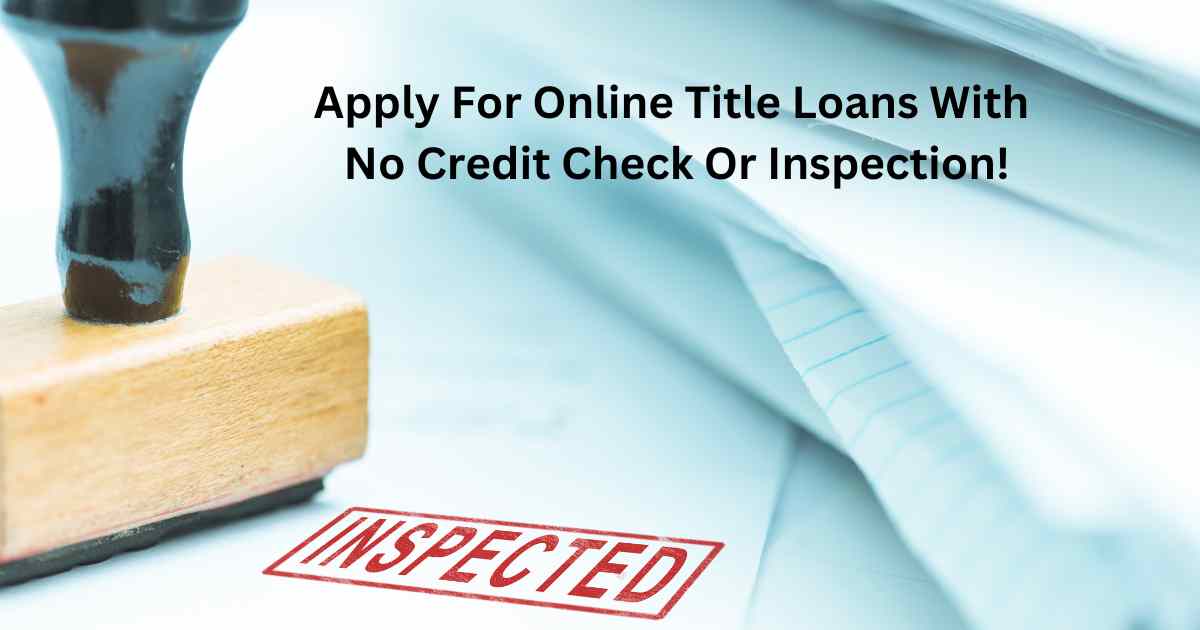 Why Do Lenders Offer No Inspection Online Title Loans
These no inspection title loans are great for self-employed people and those who don't have the time to drive around and wait for a time consuming inspection. The reason is that you can still get approved with low income and proof of employment if you can prove the vehicle exists and has sufficient value. Another plus for lenders is that these secured loans have high interest rates and APRs that can increase if you fall behind on payments. Yes, there's a real risk to them if you stop making monthly payments, but they're making a significant amount of money each month when you make your payment.
Loan Amounts For Title Loans That Don't Require The Car
If you and the lender are "on the same page" regarding the vehicle's value derived from the inspection process, you can expect nearly as much cash as a typical car title loan. In some states, these loan amounts can reach $15,000; on the low end, you're considering borrowing at least a few hundred dollars without visiting a retail store. However, it's worth repeating the APR for any collateral loan that doesn't require the car will be high, as the underwriter is taking on even more risk by not viewing the vehicle in person.
A Vehicle Inspection May Be Inevitable For An Online Title Loan With No Store Visit
Even though a handful of online title loan companies don't require a vehicle inspection or a credit check, there will still be times when a lender requires a store visit to ensure the vehicle is "as described." This happens when a title lender wants to be sure the vehicle exists and knows who's getting the money. Sometimes, an underwriter will allow you to submit pictures of the car as proof that it exists and is worth what you say it's worth. But they can only go on so much when looking at pictures or going by DMV records, and that doesn't even consider official inspections for emissions or safety purposes. The bottom line is that some companies don't feel comfortable without visually seeing the vehicle in person.
Another beneficial factor of an inspection is that your underwriter can assess any after-market additions to your car that could potentially increase the value of an initial loan or even a title loan refinance. They will also want to look at the maintenance records and look under the hood to see the car's current condition and how it's been driven. A lender will always want to verify the vehicle's value, and the best chance for them to do this is in person.  No inspection title loans are possible in some situations, but you should expect less money for your title loan if everything is done completely online or over the phone.