GET CASH FOR YOUR VEHICLE'S EQUITY WITH A 24 HOUR TITLE LOAN
We offer online title loans, with same day approval. Apply now!
APPLY ONLINE FOR A TITLE LOAN IN 24 HOURS
Don't spend days or even weeks waiting for a traditional loan lender to come through with a loan approval! Premier Title Loans can get you approved for a 24 hour title loan and that means same day cash!
Premier Title Loans has long been established as a leader in providing no hassle processing for car title loans near me. But what about if you're looking for 24 hour titles with easy qualification requirements? Don't worry; we've also got you covered with that aspect! We work with local companies all over the county in many of the largest states that allow secured loans. That means we can get your loan underwritten very quickly, and you can finish the vehicle inspection and final loan documents within that same business day! Our vehicle equity loan quotes are competitive, and we promise fast funding. So you can be confident in finding the best 24 hour title loans available online with little to no credit requirements!
Fast Funding For 24 Hour Title Loans
Regarding title loans, you want a provider that is not only reputable but also convenient. After all, no one wants to travel far and wide to get the money they need. That's why Premier Title Loans offers cash with convenient lending locations throughout the country! We understand that life can be unpredictable and sometimes you need cash fast. So we've made it easy for you by partnering with direct lenders in your area that can hand over the loan proceeds that very same day. All you need to do is enter your zip code and some additional vehicle information on our website. We'll connect you with a qualified direct lender providing instant cash loans to eligible borrowers.
The exact number of states that allow vehicle equity loans are constantly changing, but it's safe to say that you should have a decent chance of getting approved for a 24 hour title loan in more than half of the US states. You can get started with your application and vehicle information online. Then you can finish up with an authorized lender or financing partner that wraps everything up with the vehicle inspection and loan funding. This entire process doesn't take long and you should be able to find a company that offers few inspection requirements and same day cash for qualified borrowers.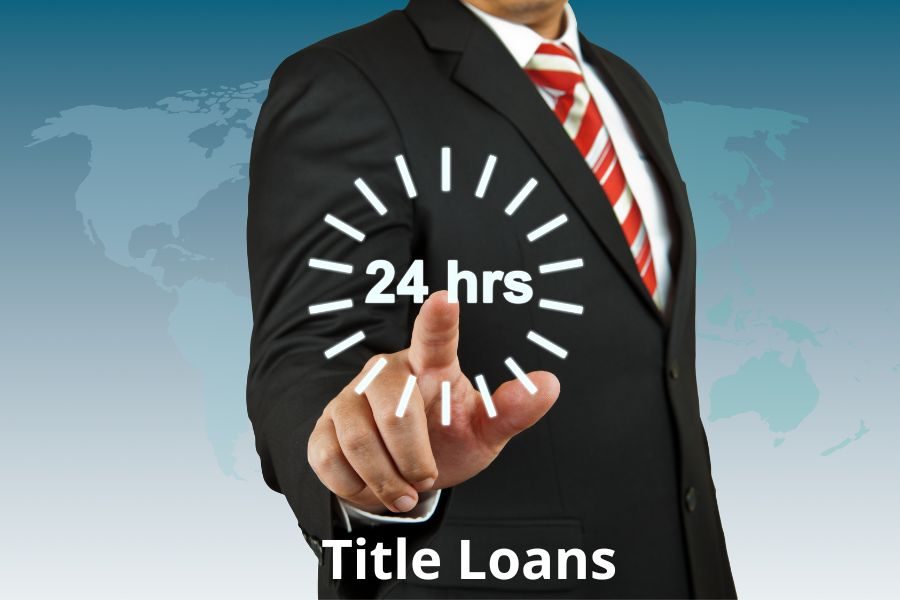 Competitive Terms & Rates From Lenders Offering Same Day Title Loans
In addition to being convenient, you also want to find 24 hour title loan providers with competitive rates and terms that fit your budget. That's one positive that comes with slowing down the lender search process. By working with direct lenders, we can connect you with companies with some of the most competitive offers in the industry. So whether you're looking for a short term loan or an installment loan, we'll be able to find companies that can provide you with the money you need at rates and terms that work for you.
Don't waste time applying with companies that only accept applications during typical business hours. We know the need for emergency cash loans never ends and that's why we work with equity lending companies that offer same day approval even with bad credit! It doesn't matter if you apply late at night or early in the morning. You should receive a notification immediately after you fill out the form and a friendly customer service agent will contact you directly to review the underwriting requirements.
Get The Money You Need Fast With A 24 Hour Title Loan
We know that when it comes to 24 hour car title loans, time is often of the essence and there's little to no time to waste dealing with slow and mundane loan underwriters. That's why we've made it our mission to provide fast processing and underwriting to qualified borrowers. In fact, in many cases, you can get the cash for your paid off car in as little as 24 hours!
It all starts when you fill out our online application. As soon as we get your personal and vehicle information, we'll get the ball rolling and begin the underwriting and vehicle verification process. We'll then match you with a same day car title loan lender that can provide you with the money you need based on the value of your vehicle. Once you've been connected with a licensed direct lender to offer secured loans in your state, they will work with you to finalize the loan details and get the cash deposited into your account as soon as possible. So don't wait any longer, if you're looking for 24 hour title loans, look no further than Premier Title Loans!
What To Look For From Companies Offering 24 Hour Car Title Loans
By now you know the most important thing is to find a legitimate company offering 24 hour online title loans in your state. But besides that, there are a few things to keep an eye out for when you're looking for one day title loans. For example, do they have a good reputation? Can they deliver their promise of completing your application in one business day? What do the online reviews say about them? And finally, what do their customers have to say?
A one day title loan company that's been in business for several years is always a good sign. It means they're doing something right and have a decent amount of experience processing applications. It would be best if you also took the time to read reviews from other customers in your area. These can be found easily by doing a quick search online. And finally, don't forget to ask around and see what your friends or family members have to say about same day lenders they may have worked with in the past. A few good references from friends or previous customers should help to finalize your lending decision so you can ultimately make an informed decision!
One last thing to look for with any legitimate secured loan company in your state is whether or not they charge any fees to see if you qualify. Not only is it illegal in some starts to charge qualification fees, but it's also a waste of time and money. Any reputable company should take an application with little to no hassle, and they should also give you an established timeframe on what to expect with the title loan requirements and how long it will take to get approved. So be sure to avoid any stores that require an upfront fee to see if you qualify!
Other Provisions To Expect With Auto Title Loans In 24 Hours Or Less
Any 24 hour lender should offer same day cash for all types of qualified candidates with a free and clear car title. This means you should not be denied upfront if you have bad credit, are unemployed, or if your car isn't worth that much. The reasons for this are numerous, but the most common is that lending firms can use your car title as collateral for the loan. Hence, they're not as worried about your credit score or employment history for both new loan offers and title loan refinances.
You should only expect to be approved for an amount equal to or less than the value of your vehicle. In other words, if your car is only worth $1,000 then you shouldn't expect to be approved for a $5,000 title loan from any secured lender. Any firm, no matter what their size, is in the business of lending money and making a profit, not giving away loans that run the risk of default!
24 Hour Title Loans With Fast & Easy Underwriting
So if you're looking for same day car title loans with no hassle funding, then you need to take the time and find the best lender in your neighborhood that's also willing to provide fair and simplified payment terms. Keep an eye out for companies that offer fast cash at any time of the day versus those that may be able to process your paperwork quickly but take days to get the cash sent to your bank account. Look out for unsecured lenders offering 24 hour loans as it simply takes much longer to underwrite an unsecured loan versus a title loan with collateral. This way you don't have to wait days and weeks like what's common for personal loans and you can get your cash quickly. Some offices and storefronts can offer direct cash funding in less than 24 hours for people who are willing to pick up the cash in real time!
Contact the team at Premier Title Loans now and we'll help you find the best lending offer where you can apply online and get approved in 24 hours or less!