GET CASH FOR YOUR LIEN FREE CAR IN AZ
We offer online title loans, and in some cases, there's no store visit required!
FAST CASH CAR TITLE LOANS ONLINE IN AZ
Premier Title Loans offers guaranteed approval title loans in Arizona for anyone with a paid off vehicle and proof of income. You don't need to worry about a traditional credit check, as your vehicle's equity determines the funding amount! Loan amounts up to $15,000 in AZ.
Qualify For Online Car Title Loans In AZ
You may consider a car title loan if you live in Arizona and need quick cash. These loan offers are a form of short-term lending that allows borrowers to use their vehicle title as collateral. Auto title loans are easy to qualify for if you have a lien free car title, and borrowers can access up to $20,000 in AZ. This can be a great option if you need money urgently, but it's essential to understand the requirements before you apply.
Listed Below Are The Main Requirements For Title Loans Online In AZ
– Be a resident of Arizona. Some larger companies in Phoenix may allow applicants from other states, but you must have a car that's titled within the state.
– Be at least 18 with a valid ID or driver's license.
– Have a lien free car title with no cosigners. You'll need to sign over the pink slip to your lender.
– Have a steady income. Your consistent income shows you can make the required monthly payments.
– Have a checking or savings account. A bank account is required for the lender to send you cash so they can debit the payments monthly.
The application process with Premier Title Loans takes less than an hour, and most of the processing can be done online. We need basic contact information and details about your vehicle's make, model, and mileage. It doesn't matter if you're applying for registration loans in Flagstaff or title loans in Tucson. The time it takes to get a title loan depends on how quickly you can get the required documents in order and submitted. Many of the large lenders in AZ can get things swiftly processed as long as you get them the necessary qualifying information.
Online Title Loans In Arizona With Bad Credit
One of the advantages of a title loan is that they are available to people with bad credit. This can be a great option if you need money urgently but have been unable to get a traditional loan from a bank. Finance companies that offer secured loans in AZ know that you likely don't have a great credit score, and most will use the credit check to verify your identity and nothing more.
There may be issues, however, if you're currently bankrupt or in the process of declaring bankruptcy. Most title loan lenders will not work with you in these cases as they consider it too high of a risk. Other concerns with bad credit title loans can involve a situation where you default with another online title loan lender in Arizona. You would not qualify because that lender has your car title.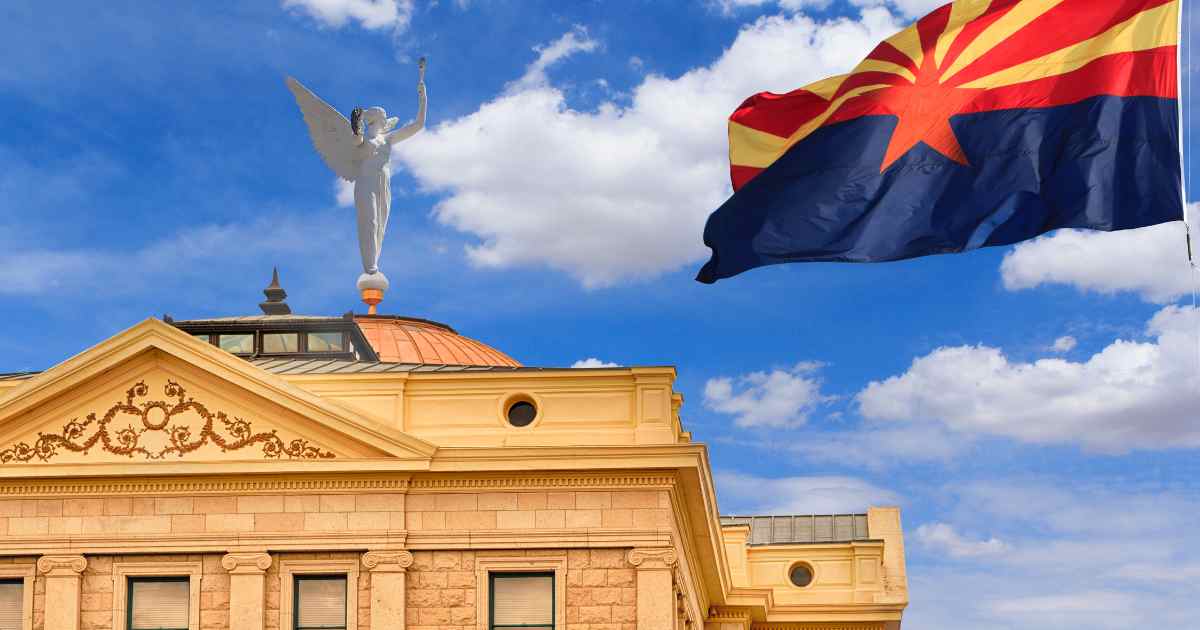 Title Loan Funding Amounts In AZ
AZ lenders typically offer registration and online title loans for between 40% and 60% of the wholesale value of your car. So, if your vehicle is appraised at $12,000, you could borrow $5,000 or more with a title loan. Your offer amount also depends on your income and employment history.
Another option in Arizona is a vehicle registration loan. With this financing offer, you can use your vehicle registration as collateral for a loan. Funding amounts for this type of loan are far lower than we see with title loans, typically around $500 to $2,000.
Benefits Of Taking Out Arizona Title Loans
– Secured loans are available to people with bad credit throughout Phoenix, Tempe, and other areas of AZ.
– Do not require a credit check; most people without a FICO score can see a quick approval without much hassle.
– Apply with Premier Title Loans online or at any licensed lending location in Maricopa County.
– Provide cash in hand within hours of being approved.
Arizona car title loans also offer longer repayment terms than payday loans. While most payday loans must be paid back in a few weeks, title loans can have a payoff term of 1-4 years. The extended payoff term allows you to make extra monthly payments at a lower amount, and you can pay off the entire amount upfront or at any time during the loan contract.
Drawbacks Of Car Title Loans In AZ
– Title loans are not available in parts of the state. Certain Indian Reservations do not allow any types of short term loans, and people in the military are not eligible.
– These loans have high interest rates. The APR for vehicle title loans can reach 100%.
– You need a clean and clear car title. If you don't have a paid off car, you likely won't qualify.
– Your lender can repossess your vehicle if you don't make the monthly payments.
Overall, title loans in AZ can be a good option for anyone with bad credit who needs cash in 24 hours. Just understand all the financing terms and payoff conditions, and use our car title loan calculator before signing any contract. Contact Premier Title Loans' helpful team to apply online or call 800-250-6279!
Lending Locations In Arizona: