Motorcycle Title Loans
Motorcycle title loans can come in handy when you need cash but don't have a vehicle, boat, or RV to use as collateral. Getting a motorcycle title loan is a lot different from getting a credit card loan or even a cash advance as you are agreeing to hand over the motorcycle title as payment for the amount borrowed. With that being said you can keep driving your motorcycle as you make the required monthly payments and it shouldn't be too hard to qualify if you have a motorcycle title that's lien free and paid off.
How Do Motorcycle Title Loans Work
When you use your motorcycle as collateral for a title loan the lender is offering you cash for the outstanding equity. Think about if someone went to a pawn shop to pawn a valuable watch, car, or another item. A company or lender offers cash for the available equity. The reality is that when you get a title loan on your motorcycle you are actually using the title of your bike as collateral. That means if you don't repay the loan, the lender can repossess the bike from you. So think very carefully about how much money you borrow with this type of loan. Car title loans have similar interest rates and financing charges and there are dozens of articles where y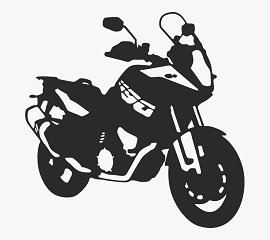 ou can read about the problems people face when they don't know how a title loan works.
If you can get a motorbike loan at the interest rate that is offered, it is a very good way to get funds. It is also a good way to improve credit over time if you repay the loan and if the lender reports to any of the main consumer reporting companies. When getting a motorcycle title loan make sure you get the cash you need, and the payment terms are flexible if there's limited money to make those payments. If you take out the money and pay off your bills and then have more money to make payments in the future, bingo! You've just done your bit to re-build your credit!
How Much Cash Can I Get With A Motorcycle Title Loan?
Actually, the interest rate will normally depend on how much equity is in a motorcycle. The higher the value of your motorcycle, the higher the interest rate. For example, if your motorcycle is worth $5,000 and the original value of the merchandise is $3,000 – you might expect to pay a monthly rate of about 9%. (Here is the breakdown of the monthly payment information side by side. The interest rate is one of the factors that should be in any loan plan.)  Much like how an older vehicle is going to get you less money with a title loan, it's similar to an older motorcycle as well. The interest rate is also based on your past credit reporting, so the higher your credit score, the lower the interest rate that will be charged. And, of course, if you make all payments on time, this will help to raise your credit score.
Should I Take out a Motorcycle Title Loan?
Motorcycle title loans can really help you get the money you need if you have a financial emergency. The best way to use these loans to your advantage is to pay off the amount borrowed as quickly as you can. This means you can get a quick loan to pay for whatever expense you need to handle only to quickly settle the remaining balance and avoid excessive interest charges and monthly lending fees
Remember that title loans do cost money, if you do not pay it back, the dealer will come and take your motorcycle from you. Once you get the loan, you can choose if you want to sell or fix it up and use it for trade, sell it new the day you get it. Another problem to consider is if you can't find the pink slip or title for the motorcycle. Similar to if you can't find a car title, it's probably going to be a situation where you need to contact the original lender or local DMV.
What Are the Requirements If I want to Use My Motorcycle As Collateral For A Loan?
Remember to borrow money with the intent of making it work for you. When going to borrow, consider how long you will be using the funds for the loan. Most lenders will require decent collateral in the form of a paid-off motorcycle. The bike must be worth at least $2,000 and you can't have any active liens or judgments. If you plan on using the loan for a year or more, you may want to ask what the lender will pay for your motorcycle. Actual price is a good measure of value and may tell you if the motorcycle is what you want or not. People always want a discount when they buy a motorcycle, so you may want to look for a slightly higher price tag if the motorcycle is going to hold its value up over time.
Should I pay off the title loan before the actual due date?
Some people make the smart decision to pay off their title loan before it becomes due. By doing this you can save hundreds or even thousands of dollars in interest in fees when factoring in the reduction in monthly payments. When you receive the check to pay off your motorcycle title loan, pay it off with the excess that the lender is willing to give you as quickly as you can in the next calendar month. When you have the excess, pay it towards another loan like a car title loan or personal loan. If you pay it back timely, you can be on your way to being able to buy again.