CASH OUT YOUR EQUITY WITH A MOTORCYCLE TITLE LOAN!
Do you have equity in your motorbike? Why not use that equity as collateral for an online title loan on a motorcycle. Here at Premier Title Loans, it's our goal to get you cash in less than 24 hours with your paid off bike. You can apply over the phone or online and look for an initial approval in less than 30 minutes!
A Title Loan On Your Motorcycle From Premier Title Loans
Motorcycle title loans can come in handy when you need cash but don't have a vehicle, boat, or RV to use as collateral. Getting a motorcycle title loan differs from getting a credit card loan or even a cash advance, as you agree to hand over the motorcycle title as payment for the borrowed amount. With that being said, you can keep driving your motorcycle as you make the required monthly payments, and it shouldn't be too hard to qualify if you have a motorcycle title that's lien free and paid off.
How Do Motorcycle Title Loans Work
When you use your motorcycle as collateral for a loan, the lender offers you cash for the outstanding equity. Consider if someone went to a pawn shop to pawn a valuable watch, car, or other items. A company or lender offers cash for the available equity. The reality is that when you get a title loan on your motorcycle, you are using the title of your bike as collateral. The lender can repossess the bike if you don't repay the loan. So think carefully about how much money you borrow with this type of loan.
If you can get a motorbike loan at the interest rate offered, it is a very good way to get funds. It is also a good way to improve credit if you repay the loan and if the lender reports to any of the major consumer reporting companies. When getting a motorcycle title loan, make sure you get the cash you need, and the payment terms are flexible if there's little money to make those payments. Suppose you take out the money and pay off your bills and then have more money to make payments in the future; bingo! You've just done your bit to rebuild your credit and you'll have the loan paid off quicker!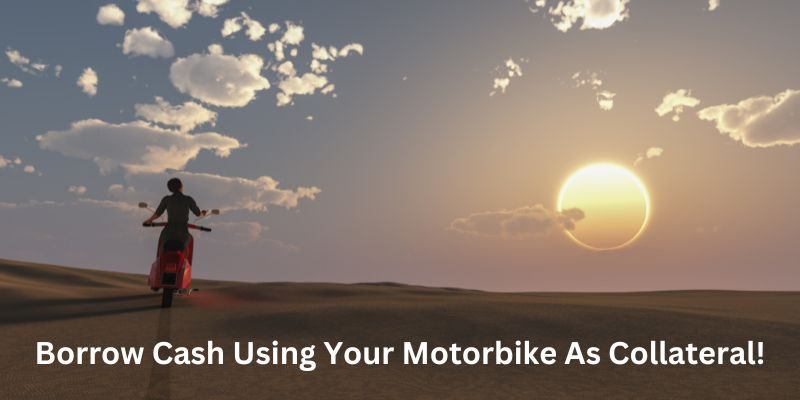 How Much Cash Can I Get With A Motorcycle Title Loan?
The interest rate will normally depend on how much equity is in a motorcycle. The higher the value of your motorcycle, the higher the interest rate. For example, if your motorcycle is worth $5,000 and the original value of the merchandise is $3,000 – you might expect to pay a monthly rate of about 9%.  Much like an older vehicle title loan will likely get you less cash, it's similar to an older motorcycle. The interest rate can also be based on past credit reporting, so the higher your credit score, the lower your interest rate will be charged. And, of course, if you make all payments on time, this will help to raise your credit score, and at that point, you can apply to refinance the loan at a lower rate.
Should I Take out a Motorcycle Title Loan?
Motorcycle title loans can help you get the money you need if you have a financial emergency. The best way to use these loans to your advantage is to pay off the borrowed amount as quickly as possible. This means you can get a quick loan to pay for whatever expense you need to handle only to quickly settle the remaining balance and avoid excessive interest charges and monthly lending fees
Remember that title loans cost money in the form of interest payments and if you do not pay it back, the lender will come and take your motorcycle from you.  Another problem to consider is if you can't find the pink slip or title for the motorcycle. Similar to if you can't find a car title, it's probably going to be a situation where you need to contact the original lender or local DMV.
Requirements For A Motorcycle Title Loan
Title loan lenders require decent collateral in the form of a paid-off motorcycle. A paid off bike with equity is the biggest requirement and will be why you get approved. The bike must be worth at least $2,000, and you can't have any active liens or judgments that would affect the bike's ownership. You will likely need to verify your current income and confirm your employment status. Some companies want proof that the motorcycle is registered in your state and has sufficient insurance coverage. The bottom line is that the requirements for a motorbike title loan are similar to the requirements for a car title loan. You should expect to provide additional paperwork, references, and documents if necessary.
Types of Motorbikes that Qualify For A Title Loan
We receive applications from consumers looking to get cash from their motorbikes, but do you know what types of bikes will qualify? It turns out any bike can qualify as long as it has equity. It doesn't matter if it's an ATV or a scooter! Premier Title Loans works with anyone looking for cash on their cruiser, sports bike, dirt bike, and even cruisers!  Are you looking for a title loan on a Harley Davidson Sportster, Suzuki GSX, or Kawasaki ZX-14r? If those bikes have equity, you can use that collateral for a loan!
Early Payoffs For Motorcycle Title Loans
Some people decide to pay off their title loan before it becomes due. By doing this, you can save hundreds or even thousands of dollars in interest or fees when factoring in how much you would pay over the life of the loan. An early payoff is always ideal, and you should do whatever you can to avoid any lending obligation. Ask your lending or customer service agent if they can offer a discount or reduced fees for your loan if you pay it off early. Some companies selling motorcycles may even offer to pay off the remaining balance if you agree to buy a new bike or something better than your current one.
Apply For Title Pawns On A Motorcycle Near Me!
Are you looking to cash out some equity with a title pawn on your motorcycle? Here at Premier Title Loans, we know exactly what you need to get approved with a lender near you! We work with dozens of lenders that offer title pawns on motorcycles and it's essential to know the different requirements and restrictions in each state. Get started on an online application with us, and we'll find the best direct lender in your neighborhood!