Do you need cash fast, but don't want to lose your car? Wisconsin title loans are an excellent way to get the money you need without sacrificing your car. Premier Title Loans provides competitive rates and fast funding for auto title loans in Wisconsin. There's no longer a need to wait days on end to hear back if you qualify for a loan. We can typically get you a same day loan approval and qualified borrowers can access up to $20,000 with a car title loan. Secured loans are a great way to get cash when you need it most!
What Are The Requirements For A Title Loan In Wisconsin
The main requirement for anyone who wants a title loan in Wisconsin is a clean and clear car title that shows you as the current owner. If you can't repay the loan a finance company or 3rd party collectorr may repossess your car to settle the debt. Because of that, you want to only borrow what you easily pay back and adhere to the requirements on loan limits and payoff amounts.
You must be 18 years of age or older to apply for a vehicle equity loan and there are a few other requirements besides having a clean and clear title. Local residents can apply online using Premier Title Loans' secure application and there's always the option of meeting with a local lender in Milwaukee or Madison. No credit check is required with auto title loans, however, previous bankruptcy filings will disqualify you from receiving a title loan in Milwaukee. It's not uncommon for borrowers to need cash quickly due to unexpected expenses like medical bills or car repairs. Most borrowers can access up to $20k if they have a newer car that has significant value, but the average pink slip loan in WI will be around $3,000.
What Are The Benefits Of Wisconsin Auto Title Loans?
Online Title loans in Wisconsin provide significant benefits compared to other types of unsecured loans. For instance, secured loans are easy to obtain because most larger lenders do not require borrowers to have good or even decent credit. Auto title loans are also quick to fund with  lenders in WI as they can typically approve same day funding for qualified applicants. Finally, most local lenders do not require any pre-payment penalties with online title loans, so you can pay off your loan early and only pay the fraction of interest that is due at that time without fees or other costs associated with prepayment.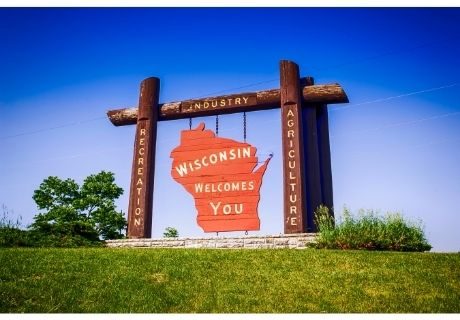 Car Title Loans In Wisconsin Are Easy To Get When You Know How To Apply!
A single click is all it takes to complete our online application process and find out if you qualify for a title loan in Wisconsin. Once you apply online you will need to fill out a few additional documents and wait for preliminary approval from the underwriting department. After that, you may be required to complete a vehicle inspection, but this won't take long and can be done at your home or place of work. You can also bring your car to any licensed inspection location in Milwaukee or Greater Green Bay.
These types of loans are easy to get because legitimate lenders mostly want to see that you have enough equity in your car to resolve a situation where you fall behind on the payments. Companies that underwrite Wisconsin title loans have limited concerns for your credit score or employment status since you provide them with a valuable asset that can be reclaimed if necessary. Car title loans give borrowers the security of knowing they won't lose their car and let them drive away with cash in hand instead of wasting time waiting for a paycheck to clear.
If you need fast cash and want to avoid using a payday lender then a title loan in Wisconsin may be your best choice. They're easy to get, fast to fund, and don't carry high extremely high interest rates like other types of personal loans. The money from title loans in Milwaukee is yours until it's paid back, so you can use it however you should choose!
Wisconsin Title Loans With Bad Credit – Get Qualified Today
Bad credit is not something that should keep you from getting cash with title loans in WI. These are secured loans and while some companies may still run a soft credit check, they mostly want to know that there's equity in your car. Wisconsin lending laws require borrowers to have a clear vehicle title, that they own free and clear, or have a cosigner approval to qualify for auto title loans in Milwaukee.
What you need is proof of income, a recent bank statement showing you have direct deposit set up, a driver's license, registration or proof of car ownership in your name(s), and your vehicle titled in Wisconsin. To complete our online application simply submit your vehicle information on the form at the top of this site or feel free to call us at 1-800-250-6279! Our friendly customer service reps are waiting to process your loan request and we'll get back to you within 30 minutes to let you know the status of your loan approval.