GET FAST FUNDS WITH A TITLE LOAN IN ALABAMA
Start your application online or call us at 800-250-6279
TITLE LOANS ONLINE WITH NO STORE VISIT IN ALABAMA!
Premier Title Loans now offers title loan lending services in Alabama. These secured loans use your vehicle's equity as collateral and you can typically borrow up to 70% of the vehicle's value in AL. Bad credit is no issue and some local lenders offer funding in one hour or less!
How To Qualify For Alabama Title Loans
Living in Alabama, you can get up to $20,000 with a fast and easy car title loan. These secured loans are easy to get and even quicker to qualify for; you only need a vehicle with your equity. A car title lender will use the vehicle's title as collateral for the loan. You will make monthly payments to pay off the loan while you keep driving the car with timely payments.
You must be an Alabama resident with an active bank account to receive this secured loan. You cannot have filed for bankruptcy during the past seven years or currently be under any default judgment that would impact your ownership of the vehicle being used for this loan.
Other requirements for a title loan include showing proof of employment and that you can repay your loan. This may include a job verification letter from an employer and proof that you make a certain amount of money each month. Typically this will need to be at least $1,500, but this amount requirement increases as the amount you borrow with a title loan in Birmingham increases. You must also be at least 18 with a valid state-issued ID to qualify for a licensed title pawn or online title loan.
Getting Your Cash With An Online Title Loan In Alabama
You must complete the short online application for on Premier Title Loans to receive your cash. This requires basic information about the car and additional mileage information. The time it takes to underwrite a title loan is quick, and once you have submitted this information, you will learn if the vehicle is approved for a title loan in Alabama within minutes!
Once approved for a title loan in Alabama, your cash will be deposited into your account the same day you apply. That timeframe can even be sped up if you live in Huntsville or Mobile and want to meet with a local lender to get your cash that same day. Ideally, you could go through the paperwork, complete the vehicle inspection and get your money in person within two hours or less. In addition to meeting with a local lender in person, anyone in Birmingham or Montgomery can have a state-licensed notary or registered lending agent come out to their house or place of employment to sign the paperwork and get the cash then instead of having to go to a retail lending office.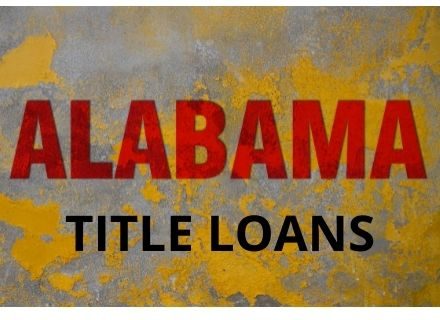 Can I Qualify For An Alabama Title Loan With Bad Credit?
Anyone with bad credit can qualify for an Alabama title loan, as having sufficient vehicle equity is a far more important requirement than having a decent FICO score. You can still count on approval, even with a negative credit history or low credit score.
It's likely that a lender won't even check your credit score while underwriting your loan. But if they do it will primarily be to look for recent loan defaults. They won't be too concerned about minor credit issues such as missed credit card payments.
Interest Rates On A Title Loan In Alabama
A consumer that takes out an Alabama title loan can expect a high interest rate. That's because these loans are considered a last resort and there are minimal underwriting requirements besides your vehicle value. These companies will charge a high APR because they take on more risk by offering a loan to someone with a questionable credit score.
For those with good credit, their best bet is to shop around for vehicle title loans as rates vary depending on where you live in Alabama. An excellent place to start would be checking with the local companies in larger cities like Montgomery and Mobile. There are dozens of title loan companies in each of these cities, and you can easily compare the rates for each firm when you apply with Premier Title Loans. Even smaller cities like Tuscaloosa have a handful of local lenders that should work with you to lower the rate on your loan.
A borrower with bad credit may not have any other options for borrowing money now due to past financial mistakes. However, consumers who qualify for a no inspection title loan may still want to try several different lenders until they find one with the lowest possible interest rate. Are you ready to get started on your application for an online title loan? If so, fill out our online application or contact the Premier Title Loans staff at 800-250-6279 to get more information about our title lending offers.