INSTANT CASH APPROVAL WITH AN RV TITLE LOAN!
Do you have a recreational vehicle that's paid off or one that's almost paid off with sufficient equity? Premier Title Loans can get you cash within 24 hours with your RV and you don't need good credit! We have connections with lenders throughout the US that a title loan on an RV with funding amounts up to 4.5k!
Did you know you can get cash by tapping into the equity from your RV? Just like if you were to take out a car title loan, you can now use your recreational vehicle as collateral for a loan. A lender will place a lien against the title to your RV and you make monthly payments until the entire loan amount is paid off. Keep driving your RV while you make payments and these loans are great for people who want to borrow a large amount of money but don't necessarily have good credit.
What's Required For RV Title Loans And How To Get One
1. The RV must be in your name, and you must have the title to it. No company, person, or lender can claim ownership of your Recreational vehicle and the title has to be owned free and clear. Also, you can not live in the RV and some companies require proof that you own or rent a residence to prove that you don't live in the recreational vehicle.
2. You must be at least 18 years old.
3. You must live in the United States.
4. You must have a valid driver's license or state identification card.
5. The RV can not be a trailer that is towed by a vehicle. In some instances, you can use a travel trailer, 5th wheeler, or camper as equity for a loan, but these will not qualify as collateral for a standard motorhome title loan.
6. The RV cannot be used for commercial purposes.
7. You must have a bank account and provide proof of income. This is required so the lender has a bank account to debit for the monthly payment. Title loans without proof of income are possible, but likely not with an RV as collateral.
8. The RV has to be worth more than $4,000. Your recreational vehicle's current resale value will determine the loan amount.
If you meet all the requirements listed above, you are likely a candidate for an RV title loan. Remember that some states have title loan lending laws that may limit or restrict you from getting cash with a secured loan in their state. These regulations also govern what companies can charge regarding interest and fees.
Types of Recreational Vehicles That Qualify
Just about any recreational vehicle can qualify for funding with a title loan. Of course, there needs to be equity, and you can't have any cosigners, but you can get cash from a motorhome, travel trailer, pop-up camper, campervan and more! Most fifth wheel trailers can qualify as well as long as there's enough equity.
It all comes down to the vehicle appraisal. For instance, expect higher loan amounts for Class A Motorhomes from Winnebago and Forest River with more reasonable loan offers for Class B Motorhomes like Coachmen and Airstream! Class C Motorhomes from Jayco and Dynamax can still get you approved, but the loan amounts will typically be a few thousand dollars. Contact Premier Title Loans at 800-250-6279 to see if your recreational vehicle qualifies for instant funding with a title loan!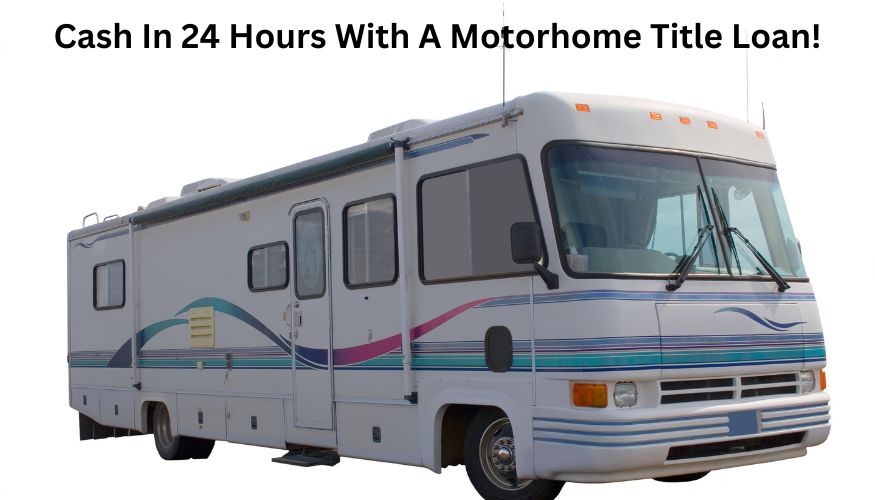 Loan Amounts With An RV Title Loan
The best part about RV title loans is that you can get a larger loan than traditional personal loans. This is because the value of a recreational vehicle is typically much higher than a car's. As mentioned above, loan amounts and limits will vary by state, but you can expect to borrow anywhere from $2,000 – $20,000 with an RV title loan. The loan to value will be between 40-60% of the established resale value of the RV.
Monthly Payments & Pay Off Time For An RV Title Loan
Again this will depend on the RV's value and the state you reside in, but monthly payments for recreational vehicle title loans can range from a few hundred to a few thousand dollars. Remember that these are just estimates and your actual payment is primarily based on how much you borrow and how long it takes to pay off the loan.
The payoff time will also depend on a few factors like the amount of the loan, the interest rate, and your monthly payment amount. Most RV title loans have terms between 12 and 18 months, but some companies may offer longer or shorter terms. Consider making extra payments on your loan upfront and try to pay off the full amount sooner rather than later. That way you can avoid significant interest charges that come with secured loans. Interest rates will likely start at 30% for an RV title loan and only go up from there, so it's a huge financial benefit to find a lender that allows prepayment without a penalty.
RV Title Loans With Bad Credit
RV title loans are perfect for people who may have less-than-perfect credit. Using your RV, travel trailer or camper as collateral may help improve your credit score. This is because the title lender will report to the major credit bureaus that you make on-time monthly payments. And, since RV title loans are secured loans, the interest rates may be lower than those of an unsecured payday loan or cash advance.
If you're considering taking out an RV title loan, do your research and compare lenders. Don't just go with the first company you find – plenty of reputable lenders can offer you a good deal on a loan. RV title loans can be a great way to get cash when you've been denied other types of personal loan offers because of your credit score.
Approval Time For Title Loans On An RV
RV title loans are slightly different than taking out a loan on your car. The main difference is that the collateral has to be appraised and physically inspected to determine its value. Unlike a car title loan, the amount you can borrow with an RV title loan is much higher and lenders want to do their due diligence to inspect and verify the recreational vehicle is as advertised and mechanically sound. This usually takes 1-2 days, and once you have been approved for the loan, the money can be deposited into your bank account within one business day. You can also pick up the cash in person at any local lending office or licensed inspection station. That way you can bring the RV in for certification, sign your loan documents and grab the money simultaneously!
So if you need quick cash and own an RV, a title loan may be the answer. Remember to compare interest rates and terms before signing up with any lender, and be sure to read the fine print so you know what you're getting into. With a title loan, you can get the most cash possible and enjoy driving your RV while you make monthly payments. Contact Premier Title Loans to find get the process started today!