Same day approval with title loans in North Carolina.
Apply for a title loan online using the form below or call 800-250-6279!
TITLE LOANS ONLINE IN NORTH CAROLINA!
Do you own a completely paid off vehicle and need same day cash? At Premier Title Loans we can get you approved and funded with a local title loan company in North Carolina. Bad credit is ok and loan amounts start at $2,500!
How Title Loans Work In North Carolina
An online title loan in North Carolina is an effective way to borrow money. A title loan allows any qualified applicant the opportunity to access their vehicle's equity as collateral for a secured loan.
You won't need a good credit score and may not even have to leave your house to complete the application and initial underwriting. With a fast approval title loan in North Carolina, you can skip the headache of meeting with a lender in person and dealing with a lengthy credit check. At Premier Title Loans, you won't need good credit to get approved with our network of lenders in NC, and you can receive the funds in less than one business day. Call Premier Title Loans at 800-250-6279 to find out more information, or check out our website to start online!
Eligibility Requirements For A NC Title Loan
All lenders have different underwriting requirements, but you will likely need the following to qualify:
A vehicle that's titled in your name with valid registration and insurance documentation.
Proof of income from your employer or other income sources
A valid North Carolina State ID
All types of paid off vehicles can be pre-approved for a title loan in North Carolina. Sometimes, you can submit photos and video proof of the car online. We need clear photos of the inside and outside of the car and detailed pictures of the odometer and VIN.
Your loan amount funding terms in Raleigh and other parts of the state will depend on the vehicle's resale value. Some companies can offer 50% or more of the car's equity as collateral for a loan and that means you're eligible for a loan amount of between $2,500 and $10,000.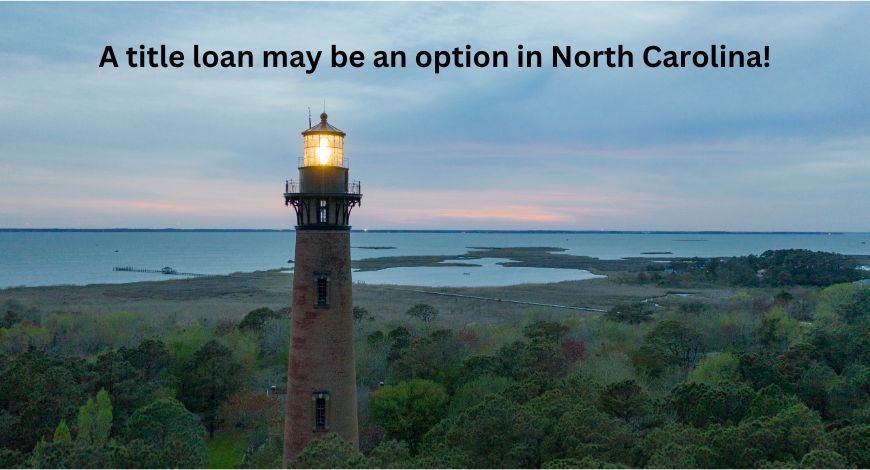 Title Loans For Bad Credit In Raleigh North Carolina
You may be surprised that title loans in Raleigh don't require a good credit history, and often, there's no detailed credit check. While creditworthiness is the main component of an unsecured loan, it doesn't factor much with an online title loan. Remember, your collateral is used to secure the lender's risk, and that's more important to them than your FICO score.
While your credit may still be a factor when underwriting the loan, it's not as important as the collateral value of your vehicle. Even without a strong credit profile, you should qualify for a reduced funding amount with a title loan in Raleigh or Charlotte!
Title Loan Benefits In North Carolina
It's not easy to qualify for a short term loan in North Carolina, and these secured loans may be available for those with poor credit who otherwise can't be approved by other lenders. Here are some other popular benefits of Premier Title Loans:
No fees or prepayment charges for paying off the loan early
Keep driving the vehicle while repaying the loan
An online vehicle inspection process while appling in Raleigh
Interest rates can be renegotiated after on time payments.
Anything that can be titled will qualify for an equity loan.
Apply Online For A Title Loan In North Carolina
Premier Title Loans is proud to offer online title lending services to residents in North Carolina. That means anyone in Charlotte, Greensboro, or Raleigh can qualify for instant cash approval for their car or truck. While state regulations make these loans hard to qualify for, they're still an option for any borrower with equity in their vehicle.
Call Premier Title Loans at 800-250-6279 or apply online for a 5 minute pre-approval for a car collateral loan. You may be able to complete the inspection online with pictures of the vehicle and we can often connect you with a local lender offering same day funding in minutes!
Cities In North Carolina:
Fayetteville
Greensboro
Raleigh
Wilmington