COMMERCIAL TRUCK TITLE LOANS – SAME DAY FUNDING
We provide title loan services for owner-operators with a semi truck or big rig. Apply today!
APPLY ONLINE FOR A SEMI TRUCK TITLE LOAN!
Use the equity in your semi truck to get cash with a same day title loan. You can qualify for funding even with a bad credit score and keep driving your big rig while making the monthly payments. These types of secured loans are great for commercial trucks that are fully paid off and you should be able to complete the application process in a few hours!
Did you know you can use your commercial truck or big rig as collateral for a loan? These secured loans offer borrowers the chance to borrow a large amount of money, and you don't even need good credit to qualify.
When it comes to semi truck title loans, you want to make sure you get the best rates and terms possible. After all, this type of loan can be a great way to access quick cash when you need it most.
Semi Truck Title Loans – What Is Required?
The first step is to find a lender that offers semi truck title loans. You can use an online lending marketplace like Premier Title Loans to compare rates and terms for semi truck equity lenders in your state. Or you can apply with a local lender that offers big rig title loans. Whichever option you choose, try to find a company that takes the time to break down your lending contract and payoff amounts. Also, read through the reviews and feedback you can find online from previous customers.
The requirements for commercial truck title loans vary by lender and the state you reside in, but generally, you'll need to meet the following criteria:
– Be 18 (19 in Alabama and a few other states).
– Own a commercial truck or big rig with a clear title in your name. This often means you own the rig; no cosigners or lenders on the pink slip can claim ownership. If the semi is titled under a business name, we need proof that you own that business.
– Have a steady source of income. The amount of money you make each month must be verified by the lender. Each company offering commercial vehicle title loans has different income verification requirements, but they typically accept bank statements or employment pay stubs.
– Have a valid driver's license or id to verify your identity. You will also need a Commercial Drivers License(CDL) if you plan on operating the truck while the lender has the title.
If you meet all of the above requirements, you should have no problem qualifying for a big rig title loan, and it won't matter if you apply online or in person. The time it takes to get your cash will depend on how quickly you can collect and process the required documents. A semi truck title loan will often take longer than a car title loan to fund, but it's not much of a difference. You may be able to get your cash within 1-2 business days of applying!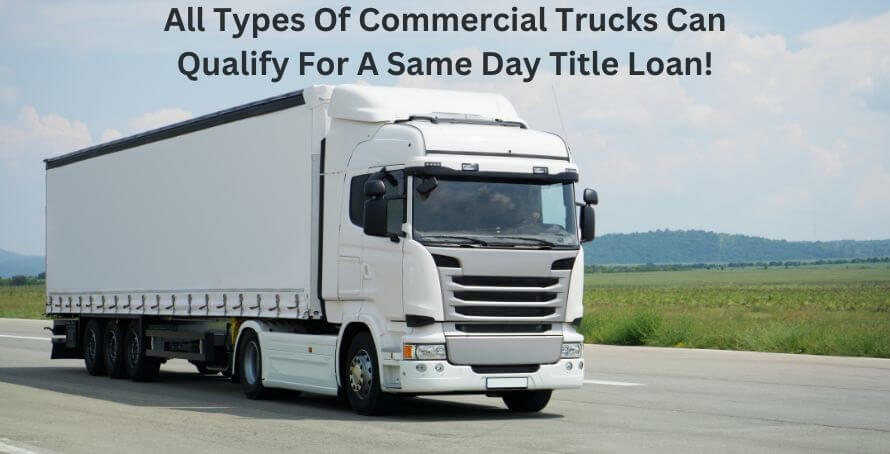 Commercial Trucks That Qualify
We accept all types of commercial trucks as equity for your loan! That means you don't always need a semi to qualify! You can get approved for a loan using your big rig, box truck, platform truck, delivery truck, car hauler, even a dump truck!  All types of trucks can qualify, so please call us at 800-250-6279 if your commercial truck is not listed here. The odds are that it will qualify if it's titled and has equity!
Inspections For A Commerical Truck Title Loan
Like any other equity loan, you must complete a full truck inspection to get approved. We will initially ask for a few pictures of your rig and the title, and at that point, we'll use your truck details and photos to generate an initial appraisal.  After the funding terms and loan amount have been agreed upon, you'll need to bring the truck to a certified inspection location or we can have an inspector meet you at your work or business. The truck will be inspected to ensure it runs and is in good condition. The inspector will also review the relevant log books, certifications, and insurance information before they put together an exact quote. All in all, the inspection should take less than 30 mins from start to finish.
Loan Amounts With A Semi Truck Title Loan
Most big rigs and commercial trucks are worth far more than a typical car used as collateral for a title loan. That's why you should anticipate a higher loan with a big rig loan. These amounts vary in all states, but on average, they're around $5,000 to $15,000, with higher amounts available for high value rigs. Some states allow companies offering vehicle title loans to lend up to the total value of the truck, while others place a cap on how much can be borrowed. You can expect an LTV of 40 to 65% of the rig's value.
For example, in California, semi truck title loans will start at $2,500; in Arizona, there is no limit on how much you can borrow. The best way to determine how much you could qualify is to apply with a few different commercial vehicle lenders and compare your offers. Remember that the interest rates and terms will vary based on the lender and your financial situation.
Interest Rates And Payment Terms For Semi Truck Title Loan
Big rig title loans tend to have higher interest rates than car title loans because they're seen as  higher risk loans. Title loans written on a truck come with an APR that starts at 20% but can range from 20% to over 100%. The payment term length for semi truck title loans is shorter than a typical vehicle collateral loan. Most companies offer terms of two or less, which is a bit lower than the 2-year average for auto title loans. You must be prepared to make larger monthly payments and pay off your loan quickly. Some lenders may offer longer terms of 3 years or more, but these typically come with much higher interest rates.
What Are The Benefits Of Applying For A Semi Truck Title Loan?
One of the biggest benefits of semi truck title loans is using the equity in your truck or commercial vehicle as collateral. There's no need for a perfect credit score or to meet stringent income requirements. As long as you own a vehicle with a clear title in your name, you should be able to qualify.
These loans also come with some of the fastest funding times, so you can get your cash quickly- often within two days or less. This is ideal if you need money for an emergency expense or want to avoid the lengthy application process and waiting period that comes with traditional bank loans.
So I Can Get A Title Loan On My Semi Truck Even If I Have Bad Credit?
Yes, most people who apply for a big rig title loan are expected to have a poor credit score, and most companies won't even do a standard credit check. Simply put, semi truck title loan companies don't focus on your credit score when you apply. That's because the equity in your truck secures the loan, so you should still qualify even if you have bad credit. The only times your credit score can be an issue is if you have significantly more negative items than positive or two repossessions over the past year.
What Are The Risks Of Applying For A Semi Truck Title Loan?
While semi truck title loans offer many benefits, there are also some risks to be aware of before you apply. One of the biggest risks is losing your big rig or commercial vehicle if you can't repay the title loan. That's because the title secures the loan to your truck, meaning the lender can repossess it if you default on your payments.
This is why it's so important to ensure you only borrow what you can afford to repay and carefully review your loan's funding terms and payoff conditions before signing anything. It's also a good idea to shop around and compare offers from multiple companies before making a final decision. This way, you can be sure you're getting the best rates and terms for your unique financial situation.
How To Apply For A Semi Truck Title Loan?
Applying for semi truck title loans is typically a speedy and easy process. Most applicants can apply for a cash loan the same way as if they were looking to get a car title loan or a secured loan for an RV or boat. You can start now and see how much you can get with an online title loan from Premier Title Loans. We offer quick cash lending options and will look to get your big rig title loan processed and funded as quickly as possible! Fill out our online application or call us at 800-250-6279 to see how much your truck is worth!