Most people living in Gilbert, AZ, have a car or truck, and there comes a time when everyone faces a financial issue where they need cash to pay for unexpected emergencies. Some people turn to payday lenders and banks to get online loans, but most of these companies only offer unsecured loans, and it can be very difficult to get approved if you don't have perfect credit. Not only that, but the funding amounts are generally small, with unsecured loans without collateral backing them.
Over the past few years, we've seen borrowers turn to secured lending options where you use a vehicle as collateral for a title cash loan. These loans are great for those who want fast cash and don't want to wait days to get approved. We make it easy to apply for car title loans in Gilbert, Arizona. The lending requirements are minimal with Premier Title Loans, and our goal is to get your loan application processed and underwritten in just a few hours. Here are our three steps to cash out your vehicle's equity.
Apply For Title Loans Online, Over The Phone, Or With A Lender Near Me In Gilbert
However you choose to apply for an auto title loan, you can rest assured that you have choices on how to apply. Most customers will go the quickest route and apply directly with Premier Title Loans for fast title loans online. By applying online, you can get an estimate of how much you can get, and once we have a few more pieces of information, one of our loan processors will call you to discuss the loan options. The online approval process is by far the quickest, and it doesn't matter if you live in Gilbert or any area outside Phoenix, AZ. We work with equity lenders throughout Arizona, and we know what you need to get fast cash today.
If you prefer to apply over the phone or in person, that's no problem! We can help you get started with the process by taking your application over the phone, or you can visit one of the many locations. Applying in person is a great option if you want to talk directly with someone about your unique situation and get all your questions answered. Some people prefer to meet with someone in person versus online as it makes them feel more comfortable handing over sensitive personal information or bank documents.
Once we receive your completed application form online, over the phone, or in person, one of our loan processors will contact you within minutes to discuss pre-approval and the documents needed to finalize your loan.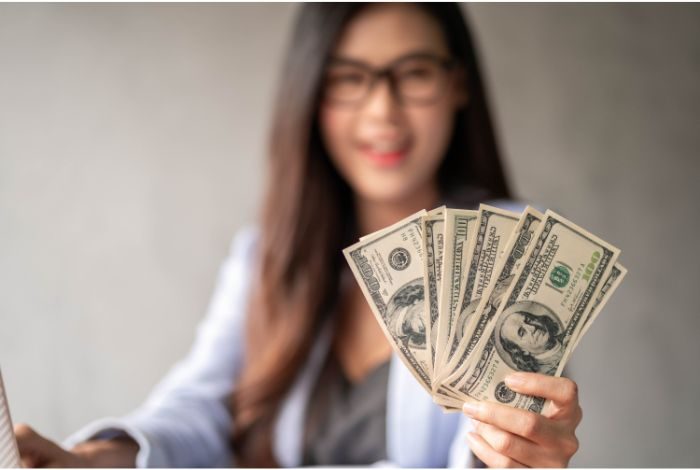 Get Your Loan Approved And Collect Your Money In Less Than 24 Hours
At Premier Title Loans, we understand that you need cash fast, and you should have your money in hand within a few hours. We work with direct lenders throughout Arizona, so you can be sure to get the best deal on your car title loan. Our goal is to make the process as easy as possible for our customers and to get them the money they need when they need it.
After you get initial approval for a loan near me in Gilbert, AZ, you will need to complete the vehicle inspection process. The inspection only takes 5-10 minutes and is required for online applicants. Once the vehicle inspection is complete, you will be asked to sign the loan documents, and then the money can be deposited directly into your account. Whichever option you choose is up to you, but only borrow what you can afford to avoid a payment default or repossession. Funding amounts in Gilbert can approach 20k, and with interest rates near triple digits, it can be tough to pay off a considerable loan amount.
Car Title Loans Online And How To Move Forward
At this point, you know how title loans work and how beneficial they are, but what about if you still owe some cash to your lender? These secured loans are great for those who may not have a paid off car title or who may have poor credit. The process is simple, you use your car as collateral to secure the loan amount and then make payments until the loan is paid in full. Like a vehicle equity loan, you can get the cash you need in just a few hours with a vehicle registration loan.
There are many reasons why someone may choose one loan type over another, but it comes down to personal preference and what you are comfortable with. Both loans are great options for those who need quick cash, and both have unique benefits worth considering. If you're still unsure which loan is right for you, contact us today, and we will help you decide what works best for your specific situation and how much cash you need!
Auto Title Loans Near Me In Gilbert – Approval With A Bad Credit Score
If you have a lien free pink slip and a source of income, you could get approved for a title loan in Gilbert regardless of your credit score or past loan defaults. The reason for this is simple. Your lender wants to know if they have equity available in your vehicle if there's ever a situation where you default. That collateral is much more important to them than your credit history! That said, it's still important to only borrow what you can afford. Repaying a large sum of money with high interest rates can be difficult, even for employed people.
If you're interested in learning more about our loan offers or how to apply, contact Premier Title Loans today! We compare the benefits of a secured loan versus a registration loan and help you to make an informed decision. Our lending agents are standing by, and you can reach us at 800-250-6279 during regular business hours!
Other local title lending locations in AZ: