St Louis is a great city to live in if you require a short term loan. Plenty of lenders offer online and in-person funding within the city. You can also borrow around 65% of your vehicle's value with an online title loan! While some lending regulations exist in MO, you can still get a secured title loan of up to $5,000 within the state. That means you can use a car, truck, or anything else that can be titled as equity for a loan. In addition, a licensed lender within the state will use that pink slip as collateral for any amount they lend out.
If you're in a difficult situation and need quick cash, car title loans are the way to go. St Louis is a great place to get cash out equity from your vehicle since the maximum loan you can take out is $5,000! Not only that, but you can use any vehicle with a clean title as collateral. So whether it's your car, truck, or motorcycle – you can use it to get the money you need. And the best part is, you can still drive your vehicle while making payments on the loan!
Requirements For A St Louis Title Loan
The requirements for a title loan in St Louis are pretty simple. All you really need is a vehicle with a clean title and a source of income. No credit check is required since the loan is secured by your car. As long as you have those two things, you should be able to get pre-approved for cash within 24 hours. Some additional requirements may include the need for references from friends and family. You may also need proof that you're a resident of Missouri and provide evidence of valid vehicle registration and current insurance coverage.
Loan Amounts For A Car Title Loan In St Louis
The amount of money you're eligible to borrow with an instant car title loan in St Louis, MO, comes down to the value of your vehicle. Most lenders will lend out around 50% to 70% of the wholesale value of your car, truck, or motorcycle. That means if your vehicle is worth $4,000, you could end up being approved for around $2,500.
To find out how the current value of your car, you can start by checking the current value of comparable vehicles. Your lender will do the same and likely request that you bring in the car for a final inspection before the lending documents are signed. During the vehicle inspection, they will check the physical condition of the car and any modifications that have been made. Once they have all the relevant info they need, they'll be able to give you a more accurate estimate of how much money you can borrow against your car title.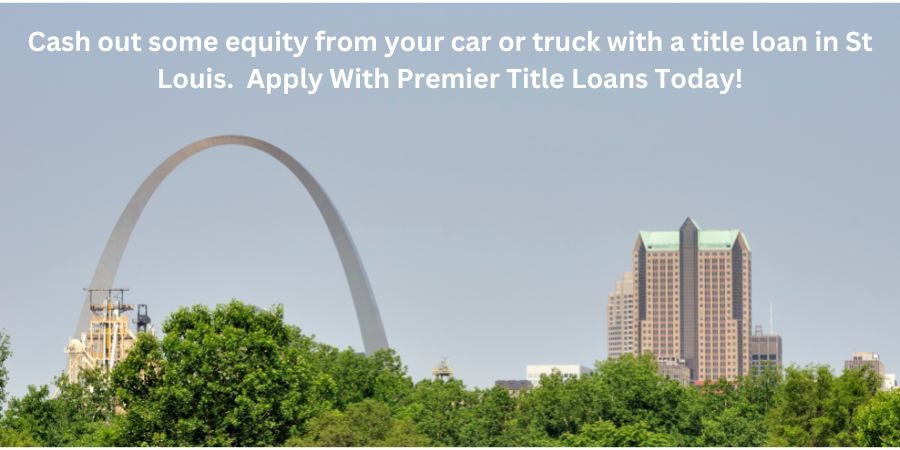 How To Get An Auto Title Loan In St Louis
Getting a title loan in St Louis is pretty straightforward. The process can be completed online or through one of the multiple financing locations throughout the city. All you need to do is fill out our online application or give us a call at 800-250-6279 and we'll get the process started for you. First, we'll need some basic information about yourself and your vehicle to determine how much money you're eligible for. The Premier Title Loans online application is simple to fill out and should take longer than 5 minutes. After that, we'll review and underwrite your lending details to determine a final approval and lending amount.
When picking up your cash, there are a few options, and whichever you choose is up to you. The local lender you're matched with can initiate a direct deposit into your checking account, simply hand you cash at any St Louis lending location, or even mail you a check. We'll work with you to make it happen no matter how you want to receive your money.
How To Make Payments On Your Car Title Loan In St Louis
Making payments on your guaranteed approval auto title loan in St Louis is just as easy as getting the loan in the first place. Once you're approved for funding and have received the money, you'll be set up on a payment schedule that's convenient for you with multiple options to pay off the learn early or according to the contract terms. Normal loans in Missouri and even online title loans for classic cars are typically paid off over months and even years. It all depends on what you feel comfortable with, and your finance company should work with you to get a manageable monthly payment while making it possible to pay off the loan at any time with no penalty.
What To Know About Applying Online With Premier Title Loans
The process is pretty simple when you're ready to apply for a car title loan in Springfield, St Louis, or just about any other location in the Show Me State! Fill out our secure online form with basic information about your vehicle details and contact info. We'll then match you with a local lending partner who will contact you directly to discuss the next steps. So the entire process can be completed from start to finish with the likelihood that you won't need to leave your home! And if you have any questions along the way, our team of experts is always just a phone call away at 800-250-6279. Don't wait any longer; apply now for secured funding in St Louis County and get the cash you need fast!