Lynchburg is one of the larger cities in Virginia and is home to many potential borrowers looking for title loans. These secured loans are viable options for those dealing with financial hardships and present an alternative to high interest payday loans or unsecured personal loans that take weeks to get approved.
To get a car title loan in Lynchburg, VA, several steps must be followed:
1. Determine Eligibility – To qualify for a title loan, you must meet specific requirements set by the lender. This may include age restrictions and ownership of the vehicle being used as collateral. Additionally, some lenders may require proof of income or other financial documents to establish a positive lending profile.
2. Compare Lenders – Once you have determined that you are eligible for a title loan, you must compare different lenders in your area to find one with competitive interest rates and terms. You can often get multiple quotes and use that information to get beneficial payment terms. Be sure to read the fine print carefully to know what kind of payments will be required and when.
3. Gather Documents – Now that you have selected a lender, it is time to gather the necessary documents for the loan application process. This will include your driver's license, proof of income, vehicle registration, and title. Other required documents may include proof of full vehicle coverage and multiple references from friends and past work associates. Providing these documents in full is important, as incomplete applications can delay or derail your title cash approval.
4. Submit Application – Submit your completed application and all the required documentation to the lender. Here at Premier Title Loans, we work with local lenders near you in Lynchburg that handle the paperwork and underwriting. The time it takes to underwrite a title loan application is far quicker than other personal loans, and most customers can finalize a loan approval in just a few hours
5. Complete a Vehicle Inspection – Companies offering Virginia title loans often require an inspection as it is a way to determine the value of the collateral and fulfill state regulations. The inspection is typically completed on-site at the lender's office or your home, whichever is more convenient for you.
6. Receive Funds – After all requirements are met, you will collect your loan funds in person or through direct deposit. At Premier Title Loans, we ensure that customers have their money as soon as possible after loan approval.
Getting a title loan in Lynchburg, VA, is an effective and quick way to get cash when unexpected financial burdens arise. With help from Premier Title Loans, you can easily find reputable lenders near you and receive personalized assistance throughout the process.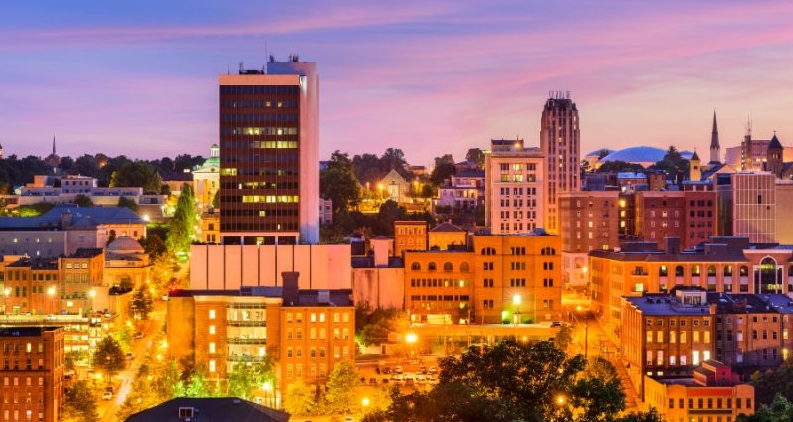 Credit Requirements For Online Title Loans In Lynchburg, VA
These vehicle equity loans are not the same as unsecured loans, where your credit profile will make or break your loan approval. Instead, your vehicle's value secured title loans in Virginia, so credit requirements are not as strict. Local lenders in Lynchburg want to see that there's equity in your vehicle that can be used as a fallback if you default. Of course, these local companies don't want to deal with repossession or the possible sale of your vehicle at auction, and they'll work with you in the case of missed payments. However, most lenders will still run a hard inquiry of your credit report to determine if you can make consistent and timely loan payments.
Title Loan Refinance Options In Lynchburg, VA
Do you have an existing title loan from another local lender in VA? If so, we may be able to refinance your loan and get you a lower interest rate. Refinancing is a good option for borrowers who need more time to repay the loan or simply want to take advantage of better terms from another lender. Some of the benefits include:
-Lower Interest Rates – We can refinance title loans with higher interest rates so that you will save money in the long run.
-Extended Loan Terms – Need more time to repay the loan? Refinancing could give you up to an extra year on your repayment schedule.
-Improved Credit Score – Making timely payments on your refinance loan can help improve your credit score by showing lenders that you are a responsible borrower.
At the very least, you should take a few minutes and get a few local refinance quotes from companies in Lynchburg. This way, you can compare the numbers and decide if a refinance is right for you.
These are just some steps needed to get a title loan in Lynchburg, VA. With help from Premier Title Loans, customers can easily find reputable local lenders and receive personalized assistance throughout the process. We work with you to ensure you get fast cash when needed most.
What Else To Know About Title Loans Online In Lynchburg
Title loans online may be a better option if you need money in 24 hours and don't have time to visit nearby lenders. Comparing rates and terms across title loan companies is easier without leaving your house. To get a quote, simply fill out a simple form with details about yourself and your vehicle, then wait for an email response from qualified lenders in your area. Just ensure you're dealing with a reputable company that's not trying to take advantage of you by charging hidden fees or hitting you with an excessive interest rate.
Premier Title Loans can help you find the best deal on title loans in Lynchburg, regardless of whether it's online or at a local office in Madison Heights or Montview, VA. Our team is dedicated to getting your application processed and approved in less than 24 hours, and we can help you find a loan amount that fits your needs. Contact us today to learn how title loans work and get the cash assistance you need.
Additional Locations in Virginia: