A car title loan in Roanoke, VA, can be an excellent option if you need money. A title loan is often secured by a vehicle's collateral, allowing you to borrow money based on the value of your car. Of course, several factors affect the amount of money you can borrow and the terms of your loan, including the age and make of your vehicle, its mileage, and its condition. However, most lenders offer loans with terms ranging from 6 months to 5 years and loans that typically range from $300 to $10,000. These funding amounts are entirely based on your car or truck's value, and you should be able to borrow 50% or more of the vehicle's equity.
Requirements To Apply For Car Title Loans In Roanoke VA
Most applicants will be approved for a car title loan in Roanoke if they can provide a lien-free title for their vehicle, a government issued ID, proof of income, and a car insurance policy. Some Virginia finance companies will also ask for proof that the car has active registration. You may need to bring it in for a quick inspection to verify the mileage and current condition.
It is also important to understand that the amount you can borrow and the terms available depend on the lender you apply with, so make sure to shop around for different loan offers to find the best combination of loan amounts and rates for your needs.
When comparing lenders, it is also important to factor in their reputation for putting customer satisfaction above all else. Reputable providers will have online applications you can fill out at any time to get pre-approved quickly without needing to visit their location or send them any documentation by mail. They should also be able to offer flexible repayment plans that allow you more freedom when managing your finances.
Do You Offer Car Title Loans Near Me in Roanoke
One of the benefits of applying with Premier Title Loans is that you can start your application online and decide how you want to underwrite your info. For example, some borrowers do everything online and have their cars inspected at an in-house location. This means you get your money as fast as possible, but you must drive to the inspection location and do more work before receiving funds.
Other applicants would prefer to meet with a local lender near them in the city of Roanoke and apply for a title loan in person. In this scenario, you can still get started with online pre-approval or do everything face to face. There are several direct lenders throughout the city, and you can expect 2 hours to get approved and process your information when meeting with a title loan company in person.
Another alternative is to simply make copies of all required documentation, sign it with a notary, and then send it off directly from your home or office via priority mail. This option takes longer since there is the extra step of mailing everything back and forth. Still, it also means that you can take care of everything from the comfort of your home and not face additional travel expenses when getting pre-approved for a car title loan.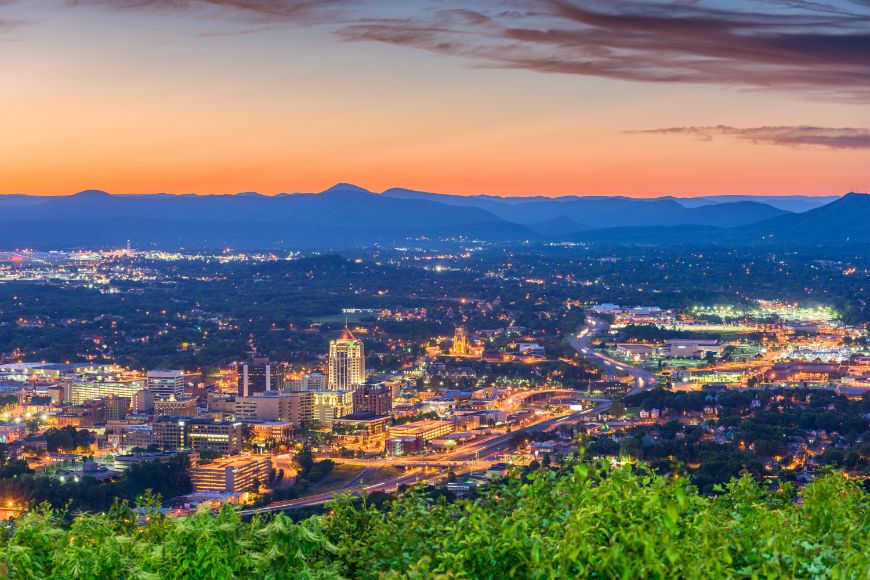 Bad Credit Title Loans In Roanoke, VA – How Do They Work
Applying for a loan with bad credit does not automatically mean your application will be denied. Title loans in Roanoke work because the lender only has to evaluate the value of your car and not your credit history! Age and mileage are usually good indicators of a vehicle's value. Still, as mentioned earlier, lenders may also use an inspection to verify this information, so it is important to have everything ready before visiting a title lender.
Title cash loans in VA typically range from $300 to $10,000. You should expect interest rates similar to payday loans unless you choose certain financing, such as our signature installment loan program offered through affiliated lending companies in Roanoke.
Getting approved for a car title loan with bad credit has never been easier as long as you can provide verifiable proof of income and maintain a clean driving record. Feel free to contact us today if you have concerns about the underwriting requirements or are just looking for more information! We look forward to hearing from you soon.​
At Premier Title Loans, we are committed to putting our customers first. We offer flexible terms and repayment plans, along with same day approvals so that you can get cash in hand quickly and easily. So whether you need money for an emergency or some extra cash flow to meet your expenses, we can help. Contact us today to learn more about how we can help with your online title loan needs in Roanoke!
Can I Still Drive My Car & What Type Of Vehicle Will Qualify For A Title Loan in Roanoke
With a Premier Title Loan, you can use your vehicle as collateral while still being able to drive it! We hold onto your vehicle's title until the loan has been fully repaid. For us to approve your application and get you cash in hand quickly, we will need to see that you own your car or truck outright, which means there is no active lien on it. These pink slip loans are great for someone who doesn't want to deal with the hassles of a title pawn, as you can use your vehicle as you please while making the monthly loan payments.
We will then inspect the vehicle's overall condition; common wear and tear items such as mileage, tires and brakes are also checked. If everything meets our approval guidelines, we will offer you an initial loan amount based on these factors and other criteria such as proof of income, source of down payment funds, if any, driving record, etc. You can then decide to take the loan amount or decline it and we will send you on your way.
What's The Process Of Getting An Online Title Loan In Roanoke, VA, With No Store Visit
While getting approved for title loans near me in Virginia with no store visit can be fairly quick and easy, the process requires some time to get all the paperwork together beforehand. To receive same day financing, you will want to reach out at least a day before you want to use the money. That way, everything is ready when your loan is being underwritten.
Remember that title loans in Roanoke aren't for everyone, and you should only consider this option if you have exhausted other options, such as friends, family, or a credit card. Also, although they are generally quick and easy to obtain, they can be expensive in the long term, so it is important to ensure that you can repay the loan within the short repayment period.
If you think a title loan may be the right financing solution for your situation, don't wait any longer! We service customers throughout Virginia and will work diligently to process your information.  Contact us at 800-250-6279 for more information about getting cash in hand quickly with Premier Title Loans!
Additional Funding Locations in VA: