Applying for an online car title loan with Premier Title Loans in Miami is easy, and you can get approved and funded within 24 hours! All A borrower needs to do is fill out an online application and see whether the interest rate and loan terms offered are fair and work with their budget. It's always best to research different companies and compare interest rates, program costs, and other fees associated with local finance lenders in FL. Once you decide to move forward, you should gather all the required information and determine the finance terms.
Car Title Loans In Miami, FL – How They Work
A car title loan is a secured loan, and the amount you borrow is based on the vehicle's equity. Like a bank, the lender determines the loan amount to be taken out against the value of the borrower's vehicle. The vehicle's value is based on the resale value, and here in Miami, there are other factors like DMV title verification requirements and payoff terms. The lender will do a check on the car and sign off on the loan contract, and after approval, they will transfer cash into your bank account the next business day. In some cases, you can get money within a few hours if you apply with a local lender that has a location near you in Miami-Dade County.
What We Provide With Car Title Loans in Miami
It doesn't get much simpler if you need fast cash. All a borrower needs to do is give the car's title or "pink slip" to the lender, tell them a good amount about how many miles they put on the car per month, and the loan amount and terms to expect from local lenders. There is no extensive application process, no formal credit check, and no down payment. Compare this process to a standard unsecured loan, and the underwriting is practically unbelievable. Essentially, these secured loans are easy for any borrower who owns a car with equity.
We know of dozens of local companies in Miami that offer car title loans, and many of these firms offer financing options both online and in person. You can also refinance an existing loan or apply for a loan buyout to get a more favorable APR or payoff amount. The bottom line is that car title loans are decent financing options if there's a paid off vehicle being used as collateral. A borrower needs to find the proper lender in Miami, FL, to get the loan, and that's where Premier Title Loans can help you!
Interest Rates To Expect With A Title Loan Lender in Miami
Some firms charge ridiculous interest and have unreasonable terms, and many of these services provide loans online. With car title loans, the amount the person will get will depend on their car title, the amount of equity the borrower has in the car, and the amount of money they are looking for with the loan. Maybe the borrower got their car from foreclosure or something similar, but that is not always about the equity. It depends on the amount of money that the borrower borrowed. That is why it is very important to shop around and always look for companies offering interest rates or APRs that align with the State of Florida lending requirements.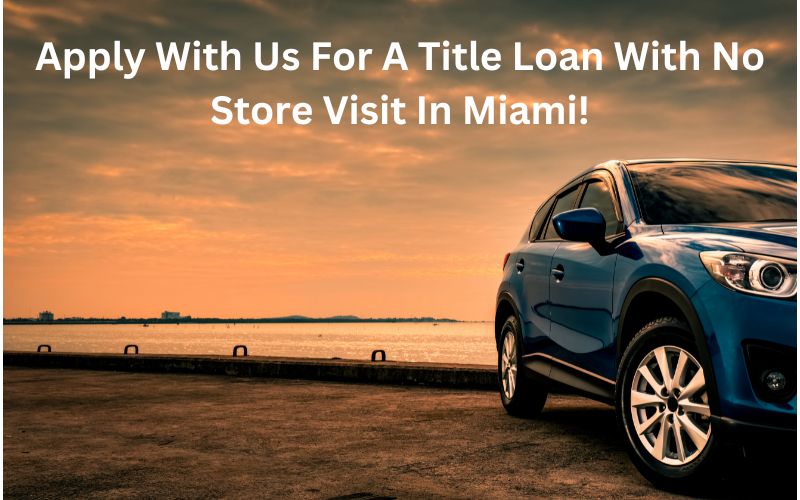 Bad Credit Concerns With Miami Title Loans
Some borrowers may be leery of applying for car title loans online in Florida if they have poor credit or no recent credit history. On the contrary, many applicants have no problem getting funded for online title loans in Miami if they have bad credit. The State of Florida still has many people struggling economically, and applying for a bad credit loan doesn't mean you won't be approved for financing. This is helping many people afford cars or even be approved for a loan that otherwise would be denied because of bad credit.
Tips To Get An Easy Approval Online Title Loan Near Me In Miami, FL
Auto title loans are effective ways to get quick cash to cover something you need. They're offered by many companies all over the country, and Miami, FL, is no exception. However, these loans are only available in some places: some things can get your application denied. Here are a few of the most important tips when applying for one of these loans online, so that you know what kinds of things to watch out for and how to find the best companies near me offering collateral loans!
1: Not all title loan companies are created equal. Secured lenders are just like any other finance company. Some firms are great, and some will waste your time. It's up to you to research when looking for the best title companies in Miami, FL. Read reviews, talk with people and search online to find great firms.
2: Check out different financing terms. Some lenders might have a lower interest rate than others or offer quick approval – all good things to look for when applying for online loans! In addition, some places will allow you to get more money right away, while there may be interest-free repayment periods available elsewhere. All of these are worth looking into so take the time to learn about each option to predict how easy it'll be to pay back the amount you borrowed on time! You can save thousands of dollars over the lending term by going with a Miami lender with the lowest APR!
3: Know what vehicle you're using to get the loan. Newer model vehicles with low miles are worth far more than a car from the '90s with over 200k miles! So if you're only looking for a few hundred dollars with a title loan in Miami, that's ok. But if you're looking for an equity loan on a car with a funded amount of at least 5k, you'll need to apply with a vehicle worth at least double that amount!
4: Make sure you can pay back the monthly amount you're borrowing. Many people face mounting debt as they keep taking out these loans with small amounts to pay for their needs. Before applying, consider how much it will cost monthly and if your paycheck will cover everything. Refrain from getting into a situation where you're getting a title loan in Miami, FL, every time you face a cash crunch. If this is the case, it's best to move on from pricey loans and work with a local budgeting agency to get your finances in order.
Apply For A Loan Near Me In Miami With Premier Title Loans
Have you read everything you need to know, and are you ready to apply online? Premier Title Loans is always happy to answer your questions about funding and how these loans work. Our dedicated associates will guide you through the underwriting process so you can get the money you need without any delays or confusion! Apply online or call us at 800-250-6279, and we'll walk you through everything step by step!
Title Loan Offices & Locations In Florida: