Many Jacksonville, FL, residents will face some type of financial crisis at some point in their lives. Whether it's an unexpected medical bill, a car repair, or something else, there are times when you may need money fast and don't have the luxury of waiting around for traditional loans to come through. We all know that unsecured loans from a payday lender or credit union can be an option, but most of us don't have the type of credit score required by banks, or we're looking for more than a few hundred dollars from a payday loan company. This is where title loans come in for people in Jacksonville who have a car with sufficient equity.
Car Title loans are a type of secured loan that uses the equity from your car as collateral. This means you can get the money you need quickly without going through a lengthy approval process. Because your car's title is used as collateral, you can still get approved for a loan even with a bad credit score! Remember, most title loan companies in Jacksonville, Florida, offer much more for a secured loan with a paid off car title compared to an unsecured loan that has no security being put up.
Title Loan Lending Requirements In Jacksonville, FL
At Premier Title Loans, we make getting an online loan in Jacksonville easy and simplify the main requirements for auto title loans. To be approved, you will need the following:
–A clear car title that shows you as the only registered owner. You can't owe any payments on the car and the vehicle's title needs to be paid off. Most Jacksonville title loan companies will also require that you have the pink slip in your possession. To get a certified copy, you can visit any handful of FLHSMV Centers in Duval County and get your car's title during that same visit.
–Proof that you have current employment and verification of your income. This can be in the form of a recent payment stub from your current employer or another document that details or verifies employment status and income.
–Your Driver's License from the State of Florida or another state issued photo ID to verify your identity and place of residence.
–Provide a copy of your vehicle insurance specifying full vehicle coverage. You may also need to show your current vehicle registration and keep the registration and car insurance payments current while the lender has the car's title.
If you have all of the required documents listed above, you're well on your way to being approved! The final step is to bring your vehicle down to our convenient location for a quick inspection, and then you'll be able to sign the contract and drive away with the cash you need. The vehicle inspection doesn't take long, and most vehicle title loan lenders in Jacksonville can inspect the vehicle and review the lending documents with you in less than an hour.
Are Online Title Loans In Jacksonville, FL, Possible With Bad Credit
Did you know that nearly everyone applying for a vehicle equity online loan in Florida has a bad credit score or no recent credit history? This is because title loans are a type of secured loan, which means that your car's pink slip is being used as collateral for the loan. Since title loans are collateralized, bad credit is not always the deal breaker it would be with an unsecured personal loan from a bank or credit union.
If you have bad credit and are looking for secure loans in Jacksonville, you may still be approved, provided that you own your vehicle outright and can provide proof of employment and income. You'll also need to bring in the required documents listed above. At Premier Title Loans, we specialize in getting our customers funded quickly, even if they have poor or no credit history! The good news with any type of secured loan is that creditors will look beyond a negative credit score and instead focus on what matters: how much equity your car is bringing to the table!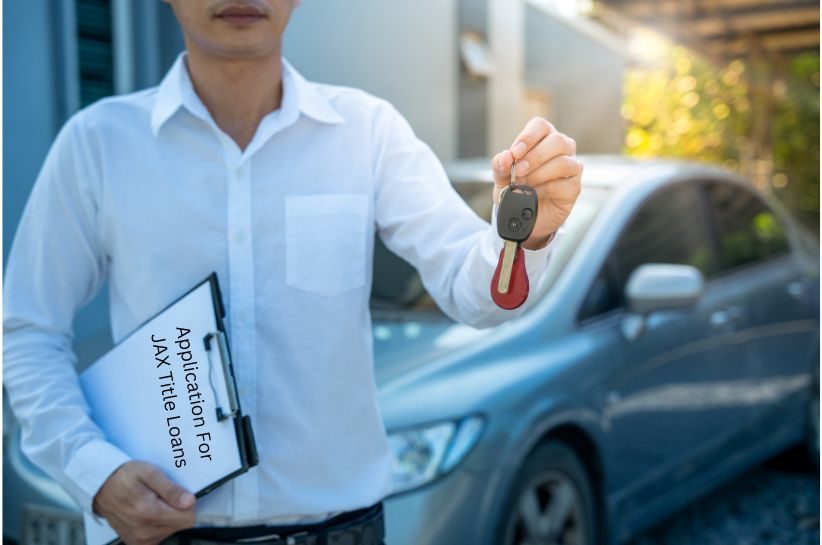 How Much Can I Get Approved For With A Florida Title Loan & What Are The Rates
The title loan amount you're approved for in Jacksonville, FL, will be based on your vehicle's value and ability to repay the loan. The funding can range anywhere from $500 to $5,000 and sometimes more, depending on your car's worth and income. The first step is to see what comparable cars are selling for in Duvall County to check a vehicle's exact title loan value. This will give you a good estimation of your car's worth and the loan amount you can get. On average, you will see loan offers based on 40-70% of the vehicle's equity. So if you have a car or truck that's worth $15,000, you may be able to borrow upwards of $10,000
Regarding title loan rates, they can vary quite a bit from one title loan lender to another, but at Premier Title Loans, we hope our applicants can access some of the most competitive rates in town! Find a title loan provider in Jacksonville that fully discloses their APR and other charges, and stay away from those with a history of hidden fees or prepayment penalties.
Is There A Way To Get A Title Loan In Jacksonville Without A Job?
Although having a job is not required to get an auto title loan, you must have the means to pay off the loan, and you will have to show proof that you can make the expected monthly payments. This could be unemployment benefits, child support payments, disability income, social security payments, retirement income, or any other type of regular and consistent income from local companies. If you don't have a job but receive monthly benefits or pension payments, title loan lenders will likely consider this as well.
At Premier Title Loans, we can work with all types of applicants and can even get you approved for title loans with no job in just a few hours! We understand that there are many reasons someone may not have a traditional 9-5 job, and we're here to help. As long as you have a consistent monthly income, you should still qualify for title loans in Jacksonville. Contact our customer service team at any time of the day to see exactly how much you can borrow and what types of terms you'll be looking at for car title loans in Jacksonville!
Other Vehicle Title Loan Offices In Florida: