GET CASH TODAY WITH AN ONLINE TITLE LOAN IN CLEVELAND OH
Apply online using the form below or call us at 800-250-6279
SAME DAY TITLE LOANS ONLINE IN CLEVELAND OH
Get approved in less than one business day for a car title loan in Cleveland. These secured loans allow you to tap into your vehicle's collateral and you can often borrow more than you would get with a personal loan. You don't need excellent credit and you'll be able to keep driving your vehicle after approval.
Online title loans are an excellent option for anyone in Cleveland, especially when most traditional lenders won't even talk to you because of bad credit. You can get title loans online without visiting a local lender, and there's a chance you can qualify for just your clean and clear title. You can get the money you need quickly and easily without going through a lengthy process.
Direct deposit title loans are available to anyone with a paid off vehicle, and it takes less than 24 hours to get underwritten. You don't need good credit to qualify, and borrowers can get same day cash if they apply online or in person and submit all the documents in a short amount of time.
Requirements For Title Loans In Cleveland
You'll need proof that you own the vehicle outright and that it's paid off, with no cosigners or other lienholders on the pink slip. You will likely need proof of employment and documentation showing the car is registered and insured in Ohio. But again, the most critical requirement for auto title loans in Cleveland is your car's title. Qualified borrowers won't have trouble getting approved for a secured loan with a valid title and proof of income.
Cleveland Title Loans With Bad Credit
You can still qualify for an online title loan even with bad credit. Often, no traditional credit checks are involved, so you're good to go as long as you meet the other underwriting qualifications. You may sometimes have issues if a lender checks your credit and sees a current bankruptcy or other significant lending issues. This can include recent late payments or a vehicle repossession from another title lender. Even with a current repossession, you may still qualify to refinance the vehicle or ask for a buyout to get new lending terms.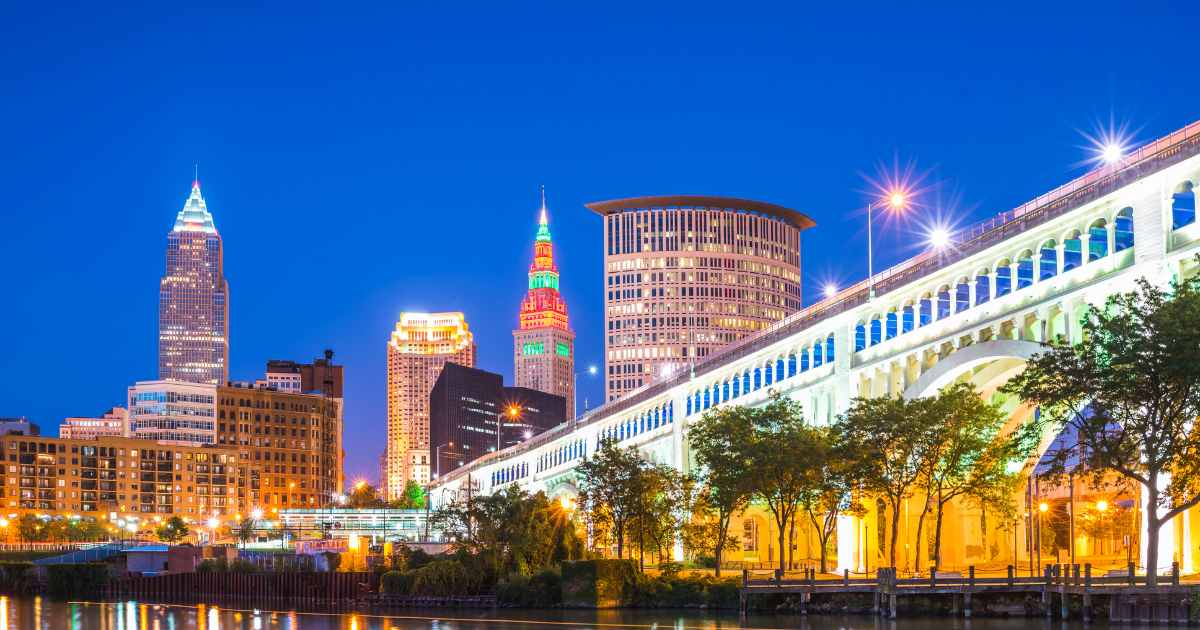 How Much Can I Borrow With A Car Title Loan In Cleveland & What Are The Rates?
Expect a loan between $2,500 and $15,000 from most title loan companies. Your loan amount depends on the vehicle's current resale value and your specific lending profile. Other minimal factors include the vehicle mileage and other concerns arising after the inspection.
Interest rates for title loans in Ohio can vary depending on the lender and the borrower's credit score and credit history. For instance, a title loan lender in Cuyahoga Falls can have a different APR than expected in Cleveland Heights. Typically, title loan rates are higher than traditional auto loan rates, as they are considered to be a higher risk loan. On average, title loan rates can range from around 25% to 300% APR. However, it's important to note the interest rates are often very high and may not be the best option for everyone.
Car Title Loans Near Me In Cleveland, Ohio
There are several ways to get an auto title loan in Cleveland if you have collateral in the form of a car or truck. Once you decide you want a vehicle equity loan, you should feel comfortable moving forward with an application. Start with a local store location or work with a company offering title loans online. Both options are great for people in Ohio, but it all depends on what you prefer.
Some applicants only want to apply for online title loans, while others would much rather get auto title loans near me in Cleveland. The good news is that many local companies in Cuyahoga County allow you to meet with them face-to-face, and you may even have a chance to get money quickly if they offer cash loans as opposed to having the money sent to your bank account, which can take 1 to 2 business days.
Don't hesitate to apply with Premier Title Loans If you're ready to get a same day quote and vehicle value.  Apply online or call 800-250-6279 to get started!
Other Cities Near Cleveland, OH: