If you're a resident of Columbus, Ohio, and require quick cash for an emergency, you can take out a car title loan. These secured loans are a novel way to get some money and are secured by your car's title. This means your car's equity is what secures the money you borrow. Online title loans allow people to borrow large sums of cash and much more than they can get from banks or payday advance companies. The time it takes to get approved is also fast and most applicants who apply can be eligible for money that same day.
Car title loans are great for those who need fast cash and don't have good credit, as they're typically easier to qualify for than other types of loans. However, they do come with some risks. In particular, you could lose your car if you can't repay the loan. Because of these risks you need to take some time and make an informed decision on whether or not a title loan is the best way to get cash. Read on as we'll do our best to break down all the different aspects of vehicle equity borrowing so you can decide whether or not to move forward!
Requirements For Car Title Loans Online In Columbus Ohio
If you're considering taking out a title loan in Columbus, Ohio, there are a few things to know about what's required. The most important requirements for any secured vehicle equity loan offer will always center around proving there's enough equity in the vehicle. Not only does that vehicle need to be paid off, but you must have the car's title in your possession and it needs to show no active liens or loans attached to it. You may also need to provide proof that you have some form of income and show those details to the lender. Additional requirements may include a driver's license in the State of Ohio and a current copy of your vehicle's registration.
How To Apply For Car Title Loans In Columbus – Online Or In Person
Once you have all the required documents, you can begin the title loan application process in Ohio by filling out an online form or going to a storefront location. After submitting your information, a title loan agent will contact you and let you know if you're approved and how much money you can get based on the value of your car. If everything looks good and you're happy with the amount, you'll need to sign some paperwork and hand over your title in exchange for the cash. Your lender will add a lien to the pink slip until the loan is repaid. At that point, you can quickly get the car's title back from the lender and get on with things.
You can always apply with a local title loan company here in Columbus. There are many direct lenders spread out all over Franklin County and they will all accept your application in person. When you apply with a direct loan provider near you, remember to take all the required documents with you to save time.
Also, compare the finance charges and rates for different lenders within the city. Even though it may take a bit longer to get multiple quotes, you will have the added advantage of being able to compare the APR for every company you apply with. Applying at a local retail store is a little different than applying online, but the process will still be just as quick.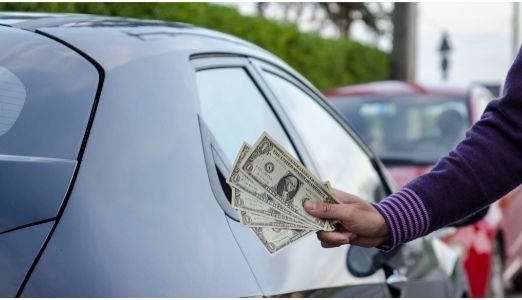 There are plenty of things to like about car title loans in Columbus, Ohio, but there are also some drawbacks that should be considered before you look into how to get approved and how much money you qualify for. Here's a look at some of the pros and cons:
Pros of Title Loans Near Me:
– Quick and easy access to cash – One of the biggest advantages of title loans is that they're swift and easy to get. If you have all the required documents, you can usually get approved and have the cash in hand within 24 hours or less.
– No credit check required – Yon won't need a standard credit check that's common with installment loan lenders in Columbus. So even if you have bad credit, you can still qualify for a loan.
– Keep your car – One of the best things about title loans is that you get to keep your car and continue driving it while making payments. Any finance company in Ohio should offer this service and there should be no need to hand over your keys or have a GPS tracking device added to the vehicle. Think long and hard about working with a lender that requires your actual vehicle as security for the loan!
Cons Of Car Title Loans Near me:
– High interest rates – The biggest downside to title loans is that they typically come with aggressive rates. This means you could pay significantly more than you borrowed in the long run. Auto title loans In Columbus Ohio are expensive and you should avoid these high rate loans if other loan options are available!
– Risk of losing your car – If you can't make your payments on time, you could lose your car. Before taking on a secured loan, you need to consider this major risk.
– Limited loan amounts – The amount of money you can borrow with a title loan near me in Ohio is typically limited to the value of your car. So this type of financing may not be the best option if you need more money than that. People always ask us if title loans are legal in Ohio, and the answer is yes, but you need to know the lending limits and stay on top state restrictions.
Apply Online For Same Day Title Loans In Columbus, Ohio
As you can see, there are both pros and cons that you need to consider. Review the risks and benefits before taking out a new loan or refinancing a current title loan. Once you're ready to apply for a quick online title loan you can use our hassle free application or contact us directly to get things started in no time!
Compare rates and quotes for title loans in other Ohio lending locations: