Get cash today with an online car title loan in San Francisco.
We offer title loans in less than one business day. Apply online or call us at 800-250-6279!
TITLE LOANS ONLINE WITH NO STORE VISIT IN SAN FRANCISCO!
Are you interested in getting an online car title loan in San Francisco, CA without having to visit a retail location? Premier Title Loans can offer instant approval if you have a lien free vehicle and can provide proof of income. Apply Today!
Premier Title Loans is a leading provider of online title loans in California, and just recently, we've introduced secured lending services in San Francisco. Any applicant with a newer car or SUV that's entirely paid off can qualify for an instant approval title loan. You don't need good credit to get approved; many people can complete the application process in less than an hour!
We offer these loans online and over the phone to consumers throughout San Francisco. While loan amounts vary based on the type of vehicle and your current employment status, you may be able to borrow upwards of $25,000 with a title loan. Let's break down the main rules and requirements for these loans and what else you can expect when first applying.
Title Loan Requirements In San Francisco
Be at least 18 years old with a valid form of government-issued ID. Any form of ID will be fine if it's not expired.
Own a qualifying vehicle paid off in full and titled in your name. You will need to provide your lender with the actual pink slip. The title is what acts as security for the cash borrowed.
You must insure your vehicle up to the total replacement amount. In addition, you must provide a valid vehicle registration form, and the car will need to be inspected by a licensed agent in CA.
Have a steady source of income to repay the loan (proof may be required showing your monthly take-home pay or additional assets).
You're likely eligible for one of our title loan offers if you meet all three of these qualifications. The amount you can borrow is based on the vehicle's resale value and your ability to make monthly payments. We encourage borrowers to take out an amount they can afford so there are no issues when making payments down the road.
Are you looking to determine your vehicle's value and how much you can borrow with a lender in SF? As long as you know the year and make of your car, we'll be able to break down how much it's worth and how much cash you take out if there's enough equity. Typically you can borrow up to 65% of the total collateral in your car, and that loan amount is paid back over months or years. Of course, your payoff time is ultimately up to you, but we recommend going with six months to a year to keep payments manageable. Also, that's a quick enough time when you can pay down the balance.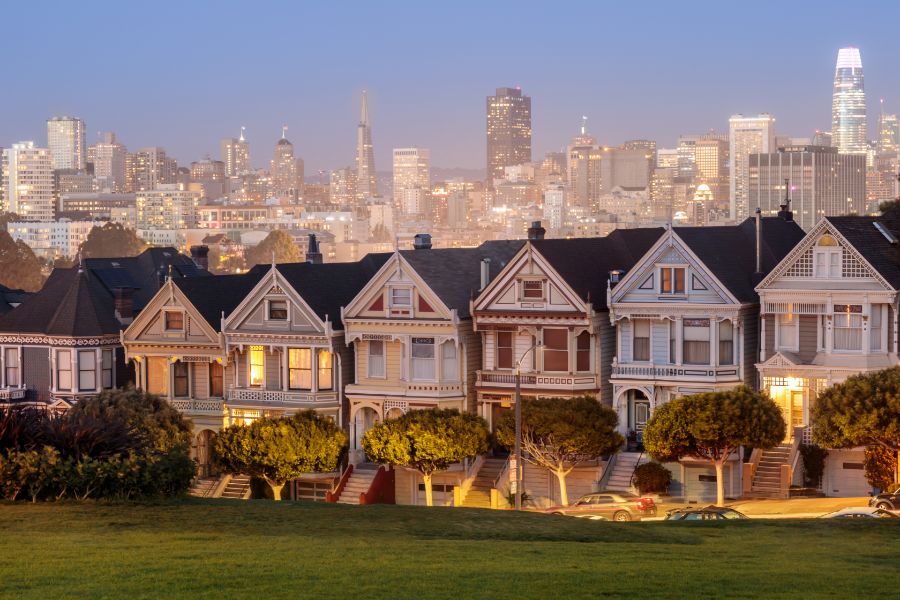 Instant Approval Title Loans In San Francisco With Bad Credit
Some customers don't take the time to apply for a bad credit title loan, as they think it's a waste of time. But do you know your credit score is far down on the list regarding what you need to qualify? We don't even pull your traditional credit score when approving you for a loan. The only factor we look at is your vehicle's value and ability to repay the loan through some form of regular income. This is excellent news for anyone with poor credit or no credit, as you can still get the cash you need without worrying about being denied.
The only instances where a poor credit report can be an issue are if you're actively involved in a bankruptcy proceeding or if you have had a vehicle repossessed recently. Even in those scenarios, you may still qualify, but the loan amount will likely be lower than typical.
Applying And Getting Approved For Car Title Loans In San Francisco
By filling out our simple online application form, you can apply online with Premier Title Loans in just a few minutes. After that, one of our underwriting specialists will contact you by phone or email to verify additional information and answer any questions you might have. Then, if everything looks good, we can dispatch an agent to your home or office to wrap up the underwriting with a quick vehicle inspection. It takes about 2 hours to apply online and pick up your cash from start to finish.
Either way, the time to get processed and approved for an online title loan is far quicker than what we see with a typical online loan in California. It can take 4-6 days to approve a personal loan application, whereas a secured loan can take less than a day!
Benefits Of Auto Title Loans In SF
There are quite a few reasons people prefer title loans over other fast cash options like payday and personal loans. Here's a list of some benefits that come with getting a car title loan within the city or throughout San Francisco County:
You Get To Keep Driving Your Car: This is one of the most significant advantages, as you're not required to hand over your car keys or have anyone follow you around for the duration of the loan. As a result, you can continue driving to work, running errands, and doing everything you usually do as if nothing has changed.
The Application Process Is Quick And Easy: We've already touched on this a bit, but it's worth mentioning again how easy it is to get started with an online title loan. The entire process of underwriting a typical application is just a few hours, and it can be quicker if you have all your documents and paperwork prepared ahead of time.
You Can Get A Loan Even With Bad Credit: This is great news for anyone struggling to get approved for a loan from a bank or other traditional lender. If you own your car outright and have verifiable income, you will likely be approved for an auto title loan in San Francisco.
Pick Up Your Cash Fast: You can usually get cash the same day you apply with a licensed lender in SF. This is much faster than you'll see with unsecured loans, which can take several days (or weeks) to process and approve.
Refinance With A Local Lender In San Francisco
If you're currently making payments on an existing title loan and would like to lower your monthly payments or get a lump sum of cash, you may qualify for a refinance. The process works similarly to getting a new loan in that you'll need to fill out an application, and then our team will verify some additional information before approving you. Then once approved, we'll work with you to structure a new loan that fits your needs and budget.
Refinancing is a great option for anyone looking to save money on their current loan or consolidate multiple loans into one easy payment. If you're interested in learning more about refinancing in San Francisco, don't hesitate to contact us today; one of our helpful agents will help you decide what option is best for you!
Other Cities in Calfornia: