Premier Title Loans is the ultimate choice for anyone looking to borrow money with a less than perfect credit score. We offer flexible lending terms and affordable payment options for people in Victorville, CA. Apply online to see how much you can get with an online loan. Our secured lending offers have fair rates, and we can get you qualified in less than 24 hours.
Why Choose Premier For A Title Loan In Victorville, CA
When you're in a financial mess and need quick cash, a car title loan is a decent option for those who have already been turned down for a personal loan. Here are some reasons why our customers choose us:
– We provide flexible lending terms and affordable payments. If you qualify, online car title loans can last a few weeks or as long as three years. Of course, the time it takes to pay off your loan is up to you!
– We can get you approved for a loan in less than 24 hours. Secured loans are outstanding if you need cash today. These equity loans use the collateral in your vehicle as security for the loan. There's no need to deal with mountains of paperwork when you can be approved primarily on the car's equity!
– Our lending offers have fair rates. Feel free to shop around with different finance lenders in Victorville to compare your loan's APR and payoff terms. We're confident that we can provide a decent interest rate and attractive payment amounts that fit your budget!
Apply online to see how much you could qualify for with an online loan from Premier Title Loans. We're here to help you get cash from your vehicle, and best of all, you can get everything completed right from your home. There's no requirement to meet with any of our staff or lending agents during the underwriting process.
Title Loan Lending Requirements In Victorville, CA
There are only a few things you'll need to provide us when you apply for an online title loan:
– A clear car title in your name. The vehicle can be paid off or have a small loan balance remaining. If you still owe a bit of money on the vehicle or SUV, that's no problem!
– A government-issued ID (driver's license, passport, etc.) so we can verify your identity and run a basic credit check. You must be 18 years or older to apply for a car title loan.
– Proof of income. Your income validation can be in the form of a recent work payment stub, bank check account statement, or any additional documents showing you have a regular source of income coming in. We don't require a minimum income amount. Still, you must prove that you can repay the loan in full.
– The vehicle itself. You may need to bring the vehicle to an inspection office in Victorville so an appraiser can inspect it and determine the value.
That's all there is to it! Once we have all of the required information, one of our loan officers will reach out to discuss the next steps, and you may even be able to pick up the funds at a location near you in Victorville. We're here to help you get the cash you need when you need it, and best of all, we can do almost everything online!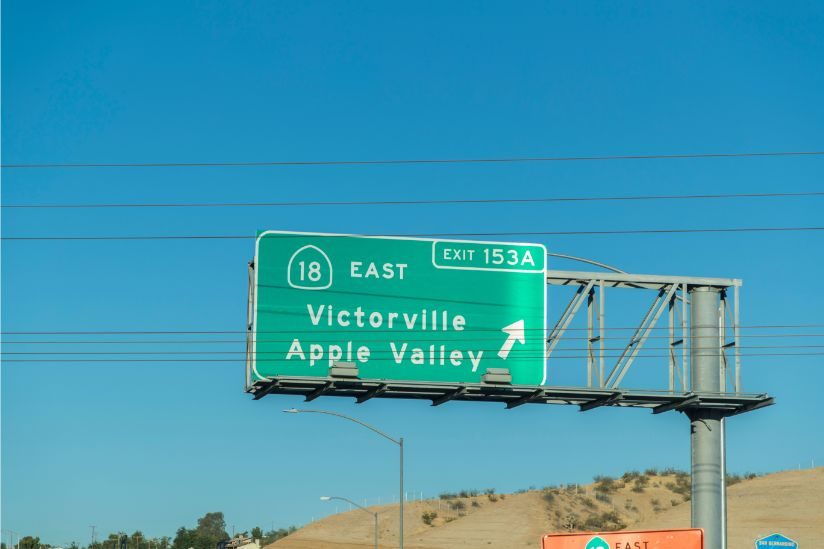 Bad Credit Is OK With A Victorville Title Loan
It's likely not an issue if you apply for a bad credit title loan in Victorville. The reason for this is that your car's value secures the loan. You will likely be approved for a loan if you have paid off the vehicle or at least have substantial equity.
Of course, every situation is different, and there are no guarantees when applying for a loan with a car as collateral. But if you've been turned down for a personal loan because of bad credit, a title loan could be a great option!
What To Do If You Can't Pay Back Your Loan In Victorville, CA?
If you're unable to repay your title loan, you should first get in touch with your lender. They may put together a new payment plan or extend the term to lower the monthly payment. Other options can include a buyout or refinance to get new terms that better fit your budget.
Whatever option you choose to pay off your online loan in CA, staying current on the required payments is essential, as a loan default is something to avoid. When you default or fall behind on the payments, a lender in Victorville can ultimately repossess the vehicle, which would cause extensive damage to your credit score. Not only that, but you'll face a scenario where the lender can sell the car at auction!
If you're having trouble affording the payments, or are worried about being able to repay your loan, contact Premier Title Loans today! We'll work with you to find an effective solution that fits your needs and budget, so you can get back on track.
Apply For A Loan Online Or With A LenderIn Victorville, California
Don't worry; we have you covered whether you're looking to apply for an online title loan or with a lender near me! Call us at 1-800-250-6279, and one of our team members will be happy to help. Or, you can fill out an online application and we'll get in touch with you as soon as possible.
There's no wrong way to get started with an application for a title loan near me. We offer a quick and practical online application and you can always meet with a local finance lender in San Bernardino County, CA. There are dozens of stores and retail loan offices in the area and we're sure that any lending agent would be happy to meet with you in person to discuss your options and get you the cash you need!
Don't wait any longer; call or apply online today for a car title loan in Victorville from Premier Title Loans! We're here to help you get the cash you need when you need it. All types of cars and trucks can qualify as long as they are lien free and you have the pink slip. So reach out to us to see how much cash you can get and what your vehicle's equity is worth!
Title Loan Locations Near Me In California: