Get cash now with an online title loan in Los Angeles.
Premier Title Loans Make's It Easy To Get Cash With Your Lien Free Title!
ONLINE CAR TITLE LOANS IN LOS ANGELES!
The process to get your cash with a title loan in LA couldn't be simpler when you apply with Premier Title Loans. We process your application quickly and you don't even need good credit. We offer title pawns up to $25,000!
How Do Car Title Loans Work & How To Apply In Los Angeles
Title loans have become popular over the past decade here in Los Angeles, especially among people who have trouble qualifying for personal loans and payday advances. These secured loans are unique as you don't need decent credit to be approved. Instead, a lender relies on the value of your vehicle to issue the loan.
These loans are typically processed and approved within 24 hours, and you can get the money deposited by ACH or bank wire straight to a checking account! The funding process can be even quicker for those who apply directly with a local finance company in LA County. Instead of waiting for the money to hit your bank, you can instead pick up the cash in person from a local lender immediately after you qualify! Please keep reading to learn more about title loans in Los Angeles and how they work.
It's simple to understand how these loans work when you realize your car's equity is used as security or "collateral" for any guaranteed funding amount. A licensed lender in Los Angeles will add a lien to your car's title until you repay the full amount. Once you've made all the necessary payments, the lender will remove their name from the title, and you'll get the pink slip back with no further issues.
These loans are designed for borrowers with poor credit, as the interest rates are usually high. Here in California, the APR will likely be limited to 36% because of recent legislative changes leading to fewer people getting approved because of their credit scores. Not that you need excellent credit to qualify, but any licensed online title loan company in Los Angeles will want to know that you can pay the total amount back when it comes due.
Requirements For Online Car Title Loans Offered In Los Angeles
The essential requirement for any secured loan offer is that you must have a lien free car title. The pink slip needs to be paid off in full, and there can't be any other cosigners or people added to the title. You must have the actual title in your possession, and it has to be an official copy from the DMV.
Additional requirements for a title pawn may sometimes include the following:
– A checking account statement or proof of employment that shows your income
– California-issued ID or some form of state identification
– Social security number or other documents to verify your identity or vehicle info
– Proof that your vehicle is insured with full insurance coverage
– References from your employer, friends, or family
Proof of residency may also be required in some cases, as title loan companies will want to know that you live in the same state where you're trying to get the loan. Everything must be updated and accurate on the paperwork because the loan can be denied if any of the information provided is false. You may also need to show valid registration for the vehicle along with a copy of your current vehicle insurance.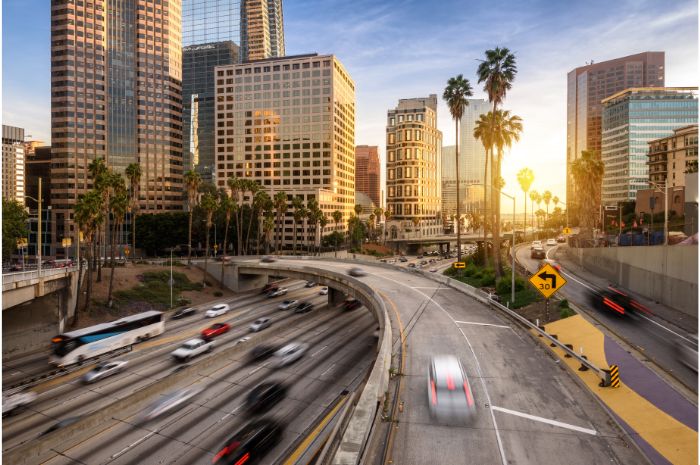 Apply For Instant Title Loans Near Me In Los Angeles, CA
There's more than one way to apply for vehicle title loans in Los Angeles. First, you can start with an online service like Premier Title Loans. All the underwriting is done online, and it takes less than 5 minutes to fill out our online form; after that, you'll be contacted by a processing rep to review your funding request. There's also an option to have a customer service rep walk you through the application over the phone, so you can ask any questions or get help with details that need additional information.
Lastly, some applicants feel more comfortable applying with a company near them. Lucky for them, there are hundreds of financing companies throughout LA County. It doesn't matter if you live in Crenshaw, Inglewood, or Santa Monica. There's likely to be a local company in California within 5 minutes of where you live that allows walk-in applicants. A bonus of working with a local equity lender is that you can complete the underwriting and vehicle inspection all in one trip. After that, there's no need to wait for the cash to hit your bank account, as some companies will cut you a check or hand over the money!
Title Loan Value Of Your Vehicle In LA – How Much Can I Get
Your vehicle's current resale value will largely determine how much cash you can get with online title loans in Los Angeles. When your loan is underwritten, there will be an upfront estimate of the vehicle's value and how much cash you can borrow. Cars are worth a bit more in larger metro areas like Southern California. Most people can qualify for at least $2,500 with higher funding for vehicles with low miles or those in excellent condition.
All title loan companies will require a vehicle inspection to assess the value of your car, truck, or SUV. The assessment can take place at any licensed lending location in LA, and it can even take place at your home or place of business. Once the car's value has been determined, you'll get an exact funding amount based on a percentage of the equity in your vehicle (typically around 55%-65%) and your ability to pay off the loan balance.
Advantages Of Same Day Cash In Los Angeles With Premier Title Loans
Premier Title Loans has been offering loans in Los Angeles for years, and we know what you need to get approved. Our main office is in Southern California, and the requirements are the same in LA and other parts of the state. We will work with you to get the loan amount and monthly payment that fits your budget and provides the cash you need within 24 hours or less!
People fall on hard times and may have difficulty getting approved for a traditional bank loan. That's why title loans without a job were designed for people in Los Angeles who either can't qualify for personal loans or are looking for more cash. These secured loans act as a financial lifeline for borrowers with FICO scores under 600 who may not qualify for other types of financing.
Are you ready to see how much money you can get from a title loan? Contact us at any time of the day, or get started now with our online application. Our streamlined underwriting process can get you quickly pre-approved for a loan in California, and we'll ensure you get the customer service assistance you deserve. Our team is standing by, so feel free to call us at 800-250-6279, and we'll help you get the cash you're looking for!
Other CA Cities Near Los Angeles: