Car title loans have been available in Austin for nearly a decade, but they're now more popular than ever as people look to cash out some equity from their vehicles. With a title loan, your car acts as collateral, and you can use that equity as security for a loan. You won't need a good credit history, and you can borrow upwards of $20,000 if your vehicle has significant value!
You will give the car's title to the lender to get a car title loan. There's no need to give them the actual car or truck, as the pink slip is all they need for security! The best part; they come with fast processing and funding! Wait times to get approved and pick up your money can be a few hours if you get cash directly from a lender in Austin! Read on to learn more about vehicle equity loans and what you need to qualify.
How Much Cash Can I Get With A Title Loan In Austin
The amount of money you can get from a title loan comes down to the value of your vehicle. The better shape it's in, the more it's worth, and the more cash you can get from a lender! To calculate what your car is worth, you can use an online car value application to determine your car's current title loan value. Funding amounts vary with lenders in Austin, but the average amount will be around $3,000, with the opportunity to get upwards of $20,000 for a vehicle with low miles and a high valuation!
Once you estimate your vehicle's value, you can start shopping around for lenders who offer loans in that range. It's essential to compare offers from different finance lenders as they have different interest rates and terms! After finding the right lender, you'll fill out an application and send them over some documents – like a copy of your car title and proof of income. The next step after this is the underwriting and vehicle inspection. At this time, an agent will meet with you to inspect your car and confirm its value. If everything looks good, you'll have the option to get cash sent straight to your bank account, or you can pick it up from any title lending office in Texas!
Requirements For Car Title Loans In Austin, TX
The requirements for an Austin title loan are pretty simple – you need to own a vehicle! That's it! There are no standard credit checks or employment verification requirements like other types of short term loans. You can get approved for a loan if you provide a clear car title in your name. You can use any vehicle as collateral for a loan, including cars, trucks, RVs, motorcycles, and more! Some companies may ask for additional references or information on your credit history, but that's not standard with every lender. It would help if you also gathered your vehicle registration info and insurance documents beforehand in case they're required.
After you're approved, you'll need to hand over the car title to your lender. Don't worry; you won't have to give them the actual car – the title is all they need as collateral. You'll still be able to drive the vehicle around like normal, and no one will know that you've taken out a loan! Be proactive and contact your equity lender if you face a loan default! If you miss monthly payments or default, the lender has the right to repossess your vehicle. So, make sure you're able to make your payments on time!
You have some protections offered in Austin and Travis County if you're car is repossessed. These protections cover your time until the car is sent to auction and the fees that can be charged to get your car back. But, if enough time elapses, you can lose the vehicle, so you must be proactive and negotiate a repayment plan with your lender.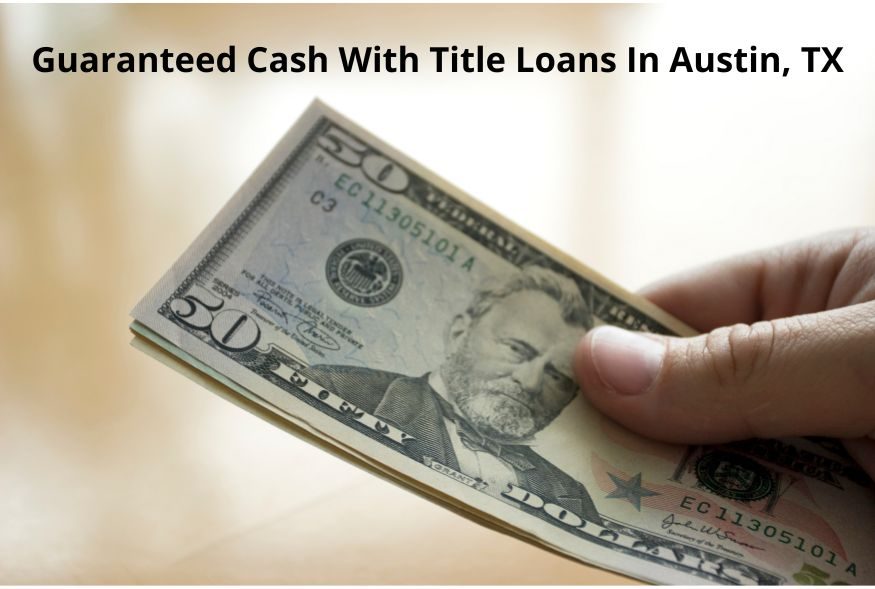 Benefits Of Online Title Loans In Austin
There can be many benefits to getting an online car title loan! For starters, they're incredibly convenient and easy to qualify for. You can get approved for a loan in just a few hours and receive the cash you need – often on the same day! They're also great if you have bad credit or no credit history. Since your car is the collateral, lenders aren't as concerned with your credit score when approving you for a loan. This makes vehicle equity loans a great option for those who may not be able to get approved for other types of loans!
Online Title loans can sometimes be much cheaper than other loans, like payday loans or cash advances. The interest rates are lower, and there are no hidden fees or charges! Unlike an unsecured personal loan, an auto title loan has collateral backing it, and the financing company has something to fall back on. You will know the exact amount you need to repay and when – making budgeting easy! And if you can repay the loan early, you won't be charged any extra fees! That's another great benefit of Austin vehicle equity loans. Shop for the best quotes and financing terms for your vehicle value. There are dozens of local financing companies within Austin and many of these firms will compete against each other to win your business!
Bad Credit Title Loans In Austin, TX – What's The Process
Assuming you can meet the main requirements for an online title loan; a clean vehicle title and proof of income, a bad credit score won't be a significant issue when you apply. This is one of the reasons these loans are so popular in Texas with individuals with poor credit scores. The loan is on the equity in your vehicle, not your creditworthiness.
The process is straightforward when you apply for a bad credit title loan in Austin with us. The first step is to complete our online application form, which takes just a few minutes. Once we have received your application, one of our loan specialists will contact you to discuss your options. If you're happy to proceed, they'll arrange a time and place for you to come to review and sign the contract! We'll then hand over the cash and you can be on your way! It is that easy!
Fast Processing And Convenient Terms For Car Title Loans From Premier
If you're looking for a convenient and hassle free way to get instant cash funding in Austin, then feel free to apply with us online. It takes less than 10 minutes to fill out your vehicle details and provide some contact info. Next, we'll contact you to review the application and let you know what funding amount and payment terms you can qualify for! So please apply online or call us at 800-250-6279 for instant pre-approval with cash in 24 hours!
Get A Title Loan In The Following Cities In Texas: