GET CASH WITH AN INSTANT CAR TITLE LOAN IN SAN ANTONIO TX
We offer online title loans, and most customers can qualify with a lien free vehicle title.
ONLINE CAR TITLE LOANS IN SAN ANTONIO TX!
Get approved for a title loan in San Antonio in less than one business day and you don't need a good credit score. These loans use your vehicle's equity as collateral and most customers can get approved that same day. Loan amounts range from $2,000 to $25,000!
What Are Title Loans And How To Get One In San Antonio
Are you having trouble finding a lender to approve you for a personal loan because you might have a poor credit history or no recent timely payments? Or are you looking to apply with Premier Title Loans in San Antonio but don't know how to apply or the main requirements? We can help you understand how these loans work and help to get the cash you need fast.
Auto title loans are secured loans that use your vehicle equity as collateral. That means the lender is less reliant on your credit history and focuses mainly on how much your vehicle is worth. You will keep driving your car while the title loan is being paid down, and the lender holds your car's title as security. Car title loans in San Antonio, TX, is still relatively easy to obtain because they're based on the car's current value, not someone's credit history.
That makes them great for those with poor credit or no credit history. And because they're secured by collateral, title loans usually have more favorable payments than unsecured loans like personal loans. You can also borrow a more significant amount of cash than a bank or credit union in San Antonio offers.
What Do I Need To Get Auto Title Loans In San Antonio
You'll need a clear title for your vehicle to get auto title loans in San Antonio. In other terms, you can't have any other loans or liens against your vehicle, and any original loan you took out to finance the car needs to be paid off. The pink slip must be in your name and you must have physical possession of the document.
You'll also need a driver's license and proof of income. Most lenders that offer title pawns will require these things before they approve you for same day funding. In some scenarios, local title loan companies in San Antonio also want to know that you make enough money each pay period to afford the loan payments. Because of that, they may ask for pay stubs or other documents to verify income.
How Much Can I Borrow With Car Title Loans In San Antonio & What Are The Rates
The amount available to borrow with online car title loans depends on your lender and the vehicle's resale value. Expect a loan amount of at least $300, but some companies can offer up to $15,000 for high value cars or trucks and those with low mileage.
The interest rates for online title loans can vary from lender to lender but are typically much higher than what you would get with a cash advance or installment loan from a credit union or bank lender. Rates for online title loans can be 100% or higher in Texas and that type of APR makes it difficult to repay the loan by the expected due date. Repay your loan quickly to avoid excessive interest charges and stay in contact with your lender to see if they're open to renegotiating your interest rate.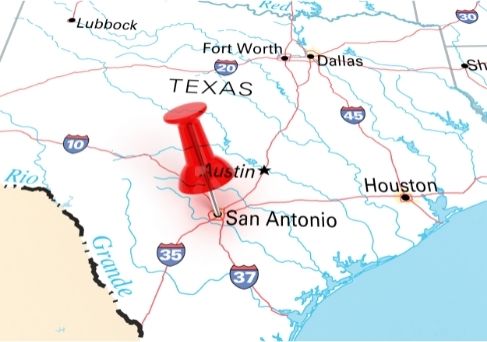 Are There Lenders In San Antonio That Allow Me To Apply In Person?
There are many storefront lenders in San Antonio that offer in person title loans. These retail lenders are great because you can get answers from a real person and you'll have the security of knowing who you're working with. Besides that, you can get your money quicker Don't wait days for money to hit your bank account. Instead, go with a lender near you that offer same day cash funding for online title loans. Look for companies that follow all city codes and regulations in San Antonio.
Some title loan companies in San Antonio allow you to apply and underwrite your loan online, while others require a physical vehicle inspection at a local office. A typical inspection for a title loan can be finished in about 10 minutes and is only necessary when a lender wants to see the car's condition and ensure that it still works and runs well. A few companies that offer loans in TX will let you bypass an inspection by sending in pictures or videos of the car, but the loan amounts in these situations will be much lower than what's typical.
Maximum Amount Loan Amounts For San Antonio Title Loans
To get the maximum amount with title loans in San Antonio, you'll need a car worth at least $3,000. This means having a newer vehicle in good condition and with no significant mechanical issues while also being the year 2012 or newer. Get pre-qualified with Premier Title Loans for online title loans from multiple lenders to compare offers and choose the most favorable financing terms!
Get Approved Now For A Title Loan In San Antonio, TX
Within a few minutes, you can go from filling out the online application on Premier Title Loans to getting an instant lending decision.  Apply online right here on our site, or meet with a lending agent anywhere in Bexar County!
Other Cities In Texas