Are you having trouble finding a lender that will approve you for a personal loan because you might have a poor credit history or no recent payments on time? Or are you looking to apply with Premier Title Loans in San Antonio, but don't know how to best apply or what the main requirements are? We can help you understand how these loans work and help to get the cash you need, fast.
What Are Title Loans And How To Get One In San Antonio
Auto title loans are a type of secured loan that uses your vehicle equity as collateral. That means the lender is less reliant on your credit history and the focus is mainly on how much your vehicle is worth. You will keep driving your car while the title loan is being paid down and the lender holds your car's title as security. Car title loans in San Antonio, TX is still relatively easy to obtain because they're based on the car's current value, not someone's credit history.
That makes them great for those who have poor credit or no credit history at all. And because they're secured by collateral, title loans usually have more favorable payments than unsecured loans like personal loans and you can also borrow a larger amount of cash than what a bank or credit union in San Antonio offers.
What Do I Need To Get Auto Title Loans In San Antonio
To get auto title loans in San Antonio, you'll need to have a clear title for your vehicle. In other terms, you can't have any other loans or liens against your vehicle, and any original loan you took out to finance the car needs to be paid off. The title should be in your name and it should be free and clear of any other owners or lienholders
You'll also need to bring some form of identification, proof of income, and proof of residency. Most lenders that offer title pawns will require these things before they approve you for same day funding. In some scenarios, local title loan companies in San Antonio will also want to know that you make enough money each pay period to afford the loan payments. Because of that, they may ask for pay stubs or other documents to verify income.
How Much Can I Borrow With Car Title Loans In San Antonio & What Are The Rates
The amount available to borrow with online car title loans depends on the lender you use and the vehicle's resale value. Some lenders offer title loans in Texas for as little as $300 while others offer them for up to $15,000 or more. It really just depends on how much your car is worth and how much the lender is willing to lend out. To determine the title loan value of a car, lenders will often have you bring the vehicle in for a quick inspection or they may use publicly available information like Kelley Blue Book value to see what the current resale amounts are based on the car's make and model.
The interest rates for online title loans can vary from lender to lender but are typically much higher than what you would get with a cash advance or installment loan from a credit union or bank lender. In fact, car title loan rates can be as high as 200% APR or more in Texas. That's why it's so important to understand how title loans work and compare offers from multiple lenders before signing anything. It's also in your best interest to pay off the loan quickly and make extra payments each pay period to bring the total payoff time down each month.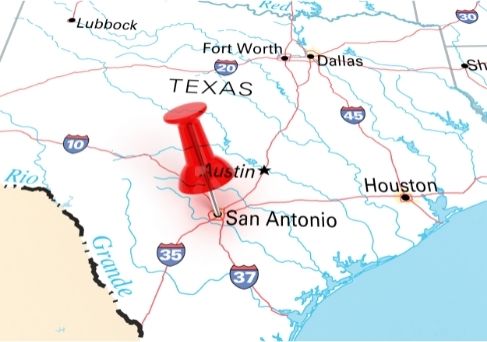 Are There Lenders In San Antonio That Allow Me To Apply In Person?
There are car title loan companies in San Antonio that have storefront locations where you can apply for vehicle title loans in person. This may be a good option if you want to get the money right away or if you're not comfortable applying online. However, it's important to compare offers from multiple lenders before choosing one to work with, and always be sure to find companies that follow all city codes and regulations in San Antonio.
Some title loan companies in San Antonio offer applications that are entirely online while others require you to visit a store in person and complete a subsequent vehicle inspection. A typical inspection for a title loan can be finished in about 10 minutes and is only necessary when a lender wants to see the condition of the car and also ensure that it still works and runs well. A few companies that offer loans in TX will let you bypass an inspection by sending in pictures or videos of the car, but the loan amounts in these situations will be much lower than what's typical.
Maximum Amount Loan Amounts For San Antonio Title Loans
To get the maximum amount with title loans in San Antonio, you'll need to have a car that's worth a good amount of money. This means having a newer vehicle or one that's in good condition and doesn't have any major mechanical issues while also being the year 2012 or newer. You should also try to get pre-qualified for online title loans from multiple lenders so you can compare offers and choose the one that gives you the most favorable financing terms.
Get Approved Now For A Title Loan In San Antonio, TX
Within just a few minutes you can go from filling out the online application on Premier Title Loans to getting an instant lending decision. It doesn't take long at all to find out exactly how much you can borrow and what your payment terms will be with car title loans in San Antonio. Apply directly online right here on our site or you can also meet with a lending agent directly anywhere in Bexar County!
Additional Car Title Loan Locations In Texas: