If you need quick cash and own a car, you may be considering a car title loan. Car title loans are a type of short-term loan where you borrow money against the value of your car. These loans are popular in Houston as many people own vehicles outright instead of taking public transportation.
The amount you can borrow with title loans in Houston depends on the value of your car but typically ranges from $2,000 to $10,000. There are a few different payoff terms to choose from, but most car title loans have repayment periods of between 12 and 36 months.
What Are The Requirements For Title Loans In Houston, TX?
You'll need to meet a few basic requirements to qualify for a car title loan in Houston, TX.
– You must be at least 18 years old with a valid driver's license.
– You must own your car outright and possess the vehicle and title. The vehicle title must be lien free, and you can't have any loans or other claims against the title.
– Your car must be insured. The car needs to be insured for the full vehicle replacement amount.
– You need to show enough income coming in to justify the amount borrowed and subsequent monthly payment. Most title loan companies in Houston will allow monthly pay stubs or bank statements as proof of income.
As long as you meet these requirements, you should be able to get a car title loan from most lenders in Houston. Again, the most important requirement with lenders is always the car title. Unlike unsecured loans, this is what's used as collateral for the amount you borrow, and it will be nearly impossible to get a car title loan without the pink slip.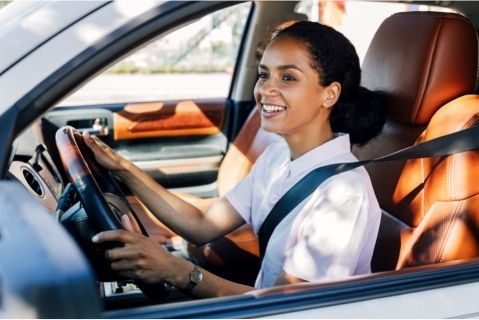 How Much Money Can I Borrow With A Title Loan From Premier?
The amount of money you can borrow with a car title loan will vary depending on the lender, your car's value, and your current income status. However, most lenders in Houston offer loans between $2,000 and $10,000, with higher amounts available for those with valuable autos.
Borrowers in Houston with a steady income and good credit will likely qualify for the higher end of the loan range, while those with bad credit or spotty employment may only be able to get the minimum.
To see how much you could potentially borrow, most lenders have an online car title loan calculator that you can use. By getting a loan quote and estimate, you can understand the monthly payment and expected finance charges. These preliminary quotes are always a good starting point, but remember that they're just estimates, and your actual loan amount may vary depending on the lender's evaluation.
What Are The Interest Rates & Fees For Car Title Loans In Houston?
The interest rates and fees for car title loans in Houston will vary by lender but are typically quite high compared to other short term loan offers. The APR will start at roughly 30% for well-qualified borrowers and go up from that amount. Because of these high rates, it's important that you only borrow the amount of money that you need and have a plan to repay the loan as soon as possible.
In addition to high interest rates, there are other fees to be aware of. The first is the loan origination fee which can sometimes be around 1% to 3%. There may also be prepayment penalties for those that want to pay off their loan early and these can vary from lender to lender. Not all title loan companies in Houston have loan origination fees or prepayment penalties so verify this information before signing a contract and shop around for lenders that don't have these fees!
Overall, it's important to remember that car title loans in Houston should only be used as a last resort option when you need quick cash and have no other borrowing options available. These types of loans come with very high rates and it's best to consider other financing methods available in Houston, TX. Besides vehicle title loans and personal loans, you can consider bank loans or see if there are any grants or assistance offered by the City Of Houston.
Can I Get An Auto Title Loan In Houston With Bad Credit?
If you have bad credit, you may still be able to get an auto title loan in Houston by using your car as collateral. Keep in mind that the interest rates for these types of loans are typically very high, and you could end up paying hundreds or even thousands of dollars in fees and interest charges if you're not careful.
To get started, you'll need to find a lender that offers car title loans to those with bad credit. There are quite a few companies in Harris County that offer these types of loans, so shop around to see what's available.
Once you've found a few potential lenders that accept bad credit title loans, compare the interest rates and fees they charge to ensure you're getting the best deal possible.
Houston Title Loans – How To Get Started
When you're ready to get a car title loan in Houston, TX, the first step is to complete an application online or in person. Some people prefer to apply directly online and others will only want to meet with a company directly. Whichever method you choose, the process to apply for a title loan should be similar. This application will ask for basic information, like your name, address, and contact information. It will also ask for details about your car, like the make, model, and year.
Once you've completed the application, you can expect to hear back from a customer service representative who will help you get started with the loan underwriting. From there, it's a quick timeframe to get your cash. Sometimes you may need to complete a vehicle inspection but that can be done in less than an hour. After that, you sign the loan documents and get your cash from a licensed company that offers online title loans in Houston!
Additional Lending Locations In TX: